East African Travel Specialists
We've spent decades working and travelling in Africa. We've led groups through Tanzania, Uganda, and Kenya, designed incredible itineraries to Ethiopia and Rwanda, and built houses on the East African coast. It's a region we're extremely passionate about. There's something intoxicating about East Africa that brings us back there, time and time again.
We travel so as to explore, gain perspective and better understand our world and our place within it. Our aim at Brilliant is to have you return home having seen, explored and felt.
Africa will invariably throw challenges your way. Our goal is to support you at every stage of your journey. We want to minimise the hassle that too often clouds explorations of the continent, and use our depth of knowledge to design and deliver once-in-a-lifetime adventures that burst with exceptional experiences.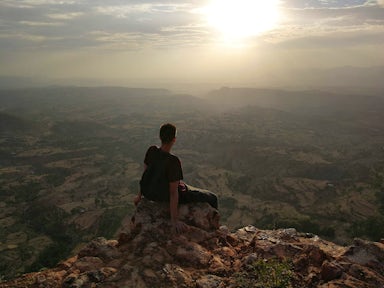 What Our Customers Say
Read our customer reviews on TrustPilot.
Brilliant Africa helped us plan an unforgettable week in Tanzania. They listened to what we were looking for and then created a custom itinerary that perfectly fit what we wanted. We absolutely loved our accommodations, guides, and entire trip! All of our transfers and logistics were seamless and it was so helpful having contacts within country (via Whatsapp) to answer any questions. Thank you again to Brilliant Africa for designing and coordinating an amazing trip!
- Melissa, travelled September 2022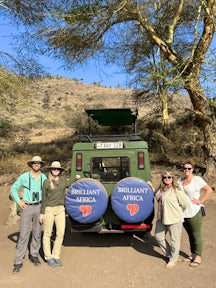 Travel in 2023/2024 With Brilliant Africa
We custom-build every trip we run to match your dreams, budget, and appetite for luxury and adventure.
So, if you're interested in exploring the wonders of East Africa, get in touch with our expert team and let's get planning.
Talk to a Specialist
Brilliant says
We recognise the social, environmental, and ecological challenges facing our world, and are committed to ensuring Brilliant has a net-positive impact on the planet and its inhabitants.
Read more about our Values & Commitments.
3 Extraordinary Destinations
Tanzania
Tanzania can be described in a single word - abundance. From the plains of the Serengeti to the summit of Kilimanjaro and beyond to the island paradise of Zanzibar, the possibilities for adventure are endless.
Tanzania is a juggernaut in East African safari, with the Serengeti National Park one of the world's leading safari destinations. But those who spend longer in Tanzania soon discover the country is about so much more than wildebeest and acacia trees.
The popularity of Tanzania means there are no shortage of stunning luxury and boutique lodges to keep you comfortable, and with the looming Kilimanjaro a constant reminder of the physicality of the country, Tanzania is perfect for adventurers embracing the "hard days, soft nights" travel philosophy.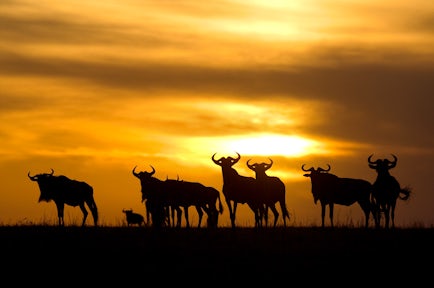 Adventures in Tanzania
The tours below showcase just some of what is possible. Use these itineraries as starting points, or to draw inspiration. Then get in touch, and let our expert team help craft the perfect itinerary for you.
Kenya
A luxury lodge on the banks of a river, savannah grasslands stretching out to the horizon only to be broken by the rise of mountain peaks in the distance.

The screech of birds in the surrounding trees, and the arrival of wildebeest on the river banks, approaching cautiously - they know crocs lurk in those murky depths.
A sunset game drive across, the sky alight in fantastic reds, oranges and yellows.
Kenya is astonishingly beautiful. This is the safari of your imagination.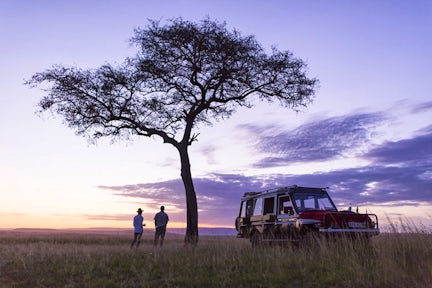 Adventures in Kenya
The tours below showcase just some of what is possible. Use these itineraries as starting points, or to draw inspiration. Then get in touch, and let our expert team help craft the perfect itinerary for you.
Uganda
We believe that Uganda is one of the most extraordinary travel destinations in Africa.
It's a land of immense variety, and a single itinerary can combine an amazing breadth of experiences, from trekking snow-capped peaks to relaxing at luxury lakeside lodges.
Uganda is a small country, which makes the diversity of experience available here all the more impressive.
You can wake up one morning in a boutique forest lodge having spent the previous day with wild mountains gorillas, and by sunset you're overlooking a savannah from your private veranda, watching buffalo, elephant, and giraffes roam the grasslands.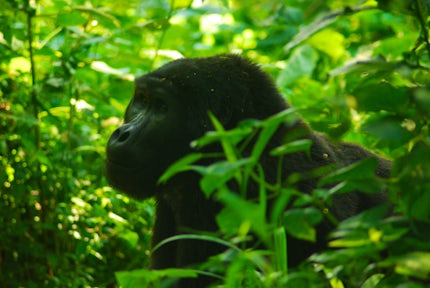 Ready to plan your African adventure?
1
Listen
We'll spend some time listening to your aspirations, then discuss the kind of experience that might suit you.
2
Match
Next we'll discuss the options, shortlist the best trips for you and present you our impartial recommendations.
3
Reserve
We'll place a 24 hour hold on your preferred option - without obligation - whilst we talk through the details.
Whatever your budget, group size, length of stay, preferred activity or appetite for adventure, we can help.

+1 315 636-4279