Lakes of Kenya, at a glance
Kenya is a part of the African Great Lakes region and its lakes are fundamental to the nation's biodiversity.
The African Great Lakes region includes several countries which surround the African Great Lakes, including Burundi, the Democratic Republic of the Congo, Kenya, Malawi, Rwanda, and Tanzania. Of the African Great Lakes, Lake Victoria and Lake Turkana are partly located within Kenya.
Kenya is home to 64 lakes and the nation contains 9.5% of Africa's lakes. A chain of 8 lakes is found within Kenya's Great Rift Valley and none of these lakes have a clear outflow.
The lakes have high rates of evaporation and salts and minerals have built up within them. Only 2 of these lakes contain fresh drinking water.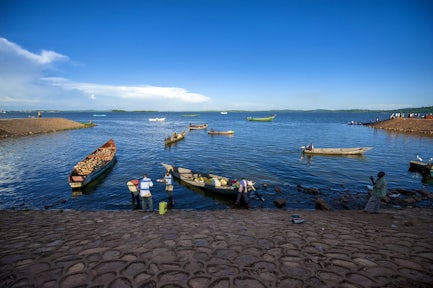 Discover Kenya's lakes on these trips
The tours below showcase just some of what is possible. Use these itineraries as starting points, or to draw inspiration. Then get in touch, and let our expert team help craft the perfect itinerary for you.
Travel in 2023/2024 With Brilliant Africa
We custom-build every trip we run to match your dreams, budget, and appetite for luxury and adventure.
So, if you're interested in exploring the wonders of East Africa, get in touch with our expert team and let's get planning.
Talk to a Specialist
Kenya's Major Lakes
Lake Naivasha
Located in Nakuru County, just outside the town of Naivasha, Lake Naivasha is a large freshwater lake which is easily accessible from Nairobi. Situated at an elevation of 1,884m, Lake Naivasha is the highest lake within the Great Rift Valley.
The 98km journey from Nairobi takes around 2.5 hours, and the lake's proximity to the capital makes it a popular day trip or weekend break for city dwellers. To escape the crowds, we recommend that you visit during the week.
Lake Naivasha is a great destination for wildlife viewing, and the surrounding area is home to 1,500 hippos. You can also expect to see a range of the lake's 400 bird species, and giraffes, zebras, impalas, and waterbucks along the shoreline.
We recommend that you take a boat safari to get the best view of the breath-taking landscape.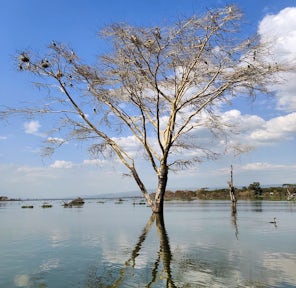 Lake Nakuru
Located in the Great Rift Valley, Lake Nakuru sits at an elevation of 1,745m and it is known for the vast number of flamingos that feed off its algae. The lake turns into a sea of pink during this astonishing visual spectacle. The lake fluctuates between 5-45 km² depending on rainfall and it is nestled within Lake Nakuru National Park.
Surrounded by waterfalls, cliffs, and forests, Lake Nakuru is a vital water source for rhinos, zebras, buffalo, and Rothschild Giraffes.
If you do not have time to visit Kenya's most popular national parks, we recommend that you visit Lake Nakuru National Park as a standalone day trip from Nairobi. Lake Nakuru is just a 3.5-hour drive from the capital, and it is a scenic spot for a picnic.
For the best view of Lake Nakuru, we recommend that you trek to the Out of Africa viewpoint along a short, steep trail. The viewpoint was made famous by the 1985 film 'Out of Africa', and it derives its name from this Hollywood appearance.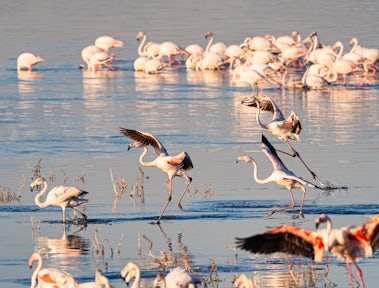 A flock of flamingos on the lake
Lake Bogoria
Located just north of the equator, Lake Bogoria is a shallow, narrow alkaline lake which has been declared a Ramsar site due to its major ecological importance.
Alongside other Rift Valley lakes, Lake Bogoria is a nesting site for flamingos and over 2 million flamingos have been known to nest on its shores. You can expect to see flamingos at Lake Bogoria at any time of the year.
Located around 250km from Nairobi, Lake Bogoria is a 4–5-hour road journey from the capital, and many travellers combine a visit to Lake Bogoria with Lake Baringo.
Bogoria's remote location means it attracts fewer visitors than nearby national parks. You will feel as though you have the entire lake to yourself.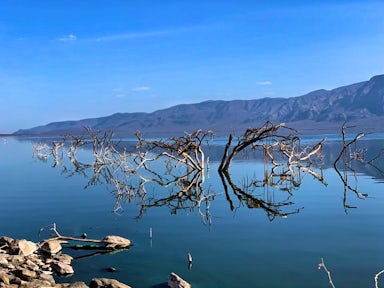 Lake Victoria
Africa's largest lake is nestled between Kenya, Uganda, and Tanzania, and Kenya is home to 6% of Lake Victoria's 68,800 km² surface area.
Its shoreline in western Kenya is home to an abundance of wildlife and several settlements, including Kisumu, Kenya's third-largest city and a major trading post in the c.19th.
As well as being an attraction for adventurers, Lake Victoria is integral to the livelihoods of millions of East Africans.
Lake Victoria contains over 200 species of fish and the haplochromine cichlid is the main endemic group. However, many species have become extinct in the last 50 years and scientists estimate that Lake Victoria's indigenous fish species have decreased by 80%. The Nile perch is Lake Victoria's most notorious invasive species.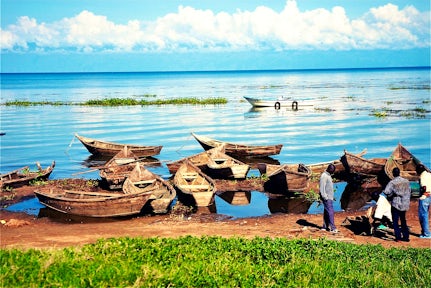 Our Most Popular Kenyan Adventures
The tours below showcase just some of what is possible. Use these itineraries as starting points, or to draw inspiration. Then get in touch, and let our expert team help craft the perfect itinerary for you.
Ready to plan your African adventure?
1
Listen
We'll spend some time listening to your aspirations, then discuss the kind of experience that might suit you.
2
Match
Next we'll discuss the options, shortlist the best trips for you and present you our impartial recommendations.
3
Reserve
We'll place a 24 hour hold on your preferred option - without obligation - whilst we talk through the details.
Whatever your budget, group size, length of stay, preferred activity or appetite for adventure, we can help.

+1 315 636-4279