Zanzibar, at a glance
Anchored 22 miles off Tanzania's coast, Zanzibar is an archipelago of over 50 islands and islets.
The two main Islands of Unguja and Pemba are believed to have once formed part of Africa, but broke away between 5 and 23 million years ago.
Uniting with Tanzania in 1964, Zanzibar is now one of the best beach holiday destinations in East Africa, with beautiful white sands and clear blue waters stretching as far as the eye can see.
As a primary trading post on the spice, silk and slave trade routes for over a millennium, Zanzibar has been a unique cultural crossroads, blending African, Indian, Arabian and European cultures. This is most apparent in the Old Stone Town, one of the few remaining ancient towns in Africa.
Stone Town is a labyrinth of chaotic alleyways, interposed between towering limestone houses, each with ornately carved hardwood doors with brass finishings and terracotta roofs.
Alongside the architecture, Zanzibar is unique in its cuisine, religion, politics, and way of life. It's very different to mainland Tanzania, and makes for a perfect start or end to an East African safari.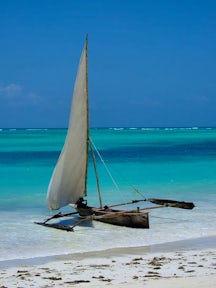 Things to do in Zanzibar
Zanzibar offers a number of outdoor activities and water sports, including cycling, kitesurfing, diving, or just general island hopping. Most hotels are based on the mainland, but if you want to escape the bustle of the main island's beaches, there are plenty of smaller islands to give you that marooned-on-a-desert-island experience.
Paje, Jambiani, and Chumbe Island
The north coast of Zanzibar is popular with kite surfers, and most companies offer a range of boards and lessons for beginners. Paje is one of the most popular sites, with crowded beaches for kitesurfing and diving, and a lively atmosphere. Meanwhile, Jambiani is a quieter option with plenty of restaurants.
For snorkelling and diving aficionados, Chumbe island - 12km from the main island - is the best place to be. This protected marine park is easy to get to (only 45 minutes by boat from Stone Town) and your money goes towards protecting a fragile ecosystem.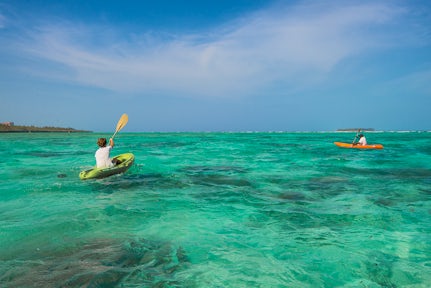 Mnemba Island, Stone Town, and Spice Farms
Mnemba island is largely regarded as one of the best dive and snorkel spots in Zanzibar. The island is a 30-minute boat ride from the town of Matemwe on Unguja's East coast.
Zanzibar city comprises two parts: Stone Town, the historical epicentre, and Ng'ambo (literally translated as 'the other side'). Stone Town is the historical core of Zanzibar, said to be the only remaining ancient town of East Africa still used today. It offers enough activities for two days, including strolling around the labyrinthian alleys, touring the old slave market, visiting Prison island, checking out the old Sultanate ruins, or getting lost in the old market.
Let's not forget that the Zanzibar archipelago is, rather exotically, also known as the 'Spice islands' for its historical role as the centre for spice trade. It's well worth taking a tour of the spice farms that still operate today and can be reached from Zanzibar city.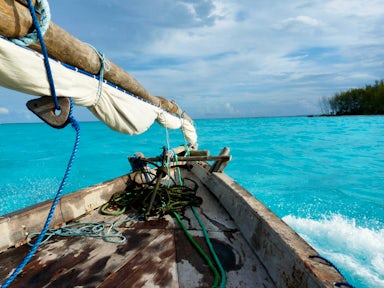 Where to stay in Zanzibar
There is a huge range of accommodation options on the main island of the Zanzibar archipelago, from simple boutique hotels, to all-inclusive resorts, honeymoon retreats, and backpacker hostels.
Most budget hotels can be found in Stone Town; our recommendations are Flamingo guest house, which is a ten-minute walk from the centre, or Ten to Ten hostel.
Zanzibar also boasts some of East Africa's most luxurious resorts and a great selection of upmarket hotels:
The Residence is set among gardens that Shirazi princes once strolled around, and is designed with Swahili and Omani influences. It offers large villas ideal for families.
The Zanzibar Collection is a set of three hotels, with a scheduled shuttle running you between the sister resorts so that you may use their numerous facilities.
The Breezes Beach Club and Spa is particularly popular with couples, and impressively supports a number of environmental and social projects in the community, including funding schools and maternity units.
The Baraza Resort and Spa uses motifs from Zanziba's Arabic, Swahili, and Indian past. The Water Club Centre offers a number of amenities, including kitesurfing, sailing, paddleboarding and snorkelling equipment.
Finally, as an adult-only hotel the Zwadi Hotel is perfect for honeymooners, and with only nine villas it can be considered the quieter option.
Zanzibar White Sand Luxury Villas and Spa is one of Africa's most renowned eco-friendly and luxury hotels.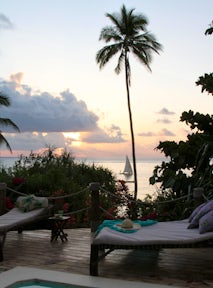 When to visit Zanzibar
The best time to visit Zanzibar is from July to August and December to February. These are the dry seasons, so the weather is warm and there is less chance of rain ruining planned excursions.
These seasons link perfectly with Tanzania if you are looking to combine your trip with a safari or trek.

Like Tanzania, Zanzibar has two rainy seasons, one short, the other long. The long rainy season often sees monsoons from March to May, which means the beaches are crowd-free and hotels offer discount rates, but you will be sunbathing in torrential rain!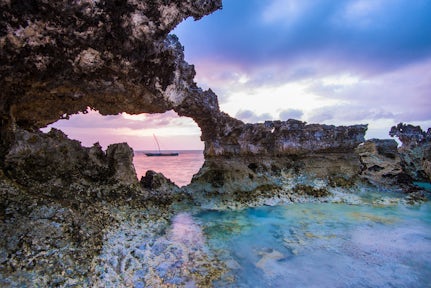 Getting to and from Zanzibar
There are some direct flights to Zanzibar offered by Condor, Jetfly, Ethiopian Airways, Kenyan Airways, Oman Air, Qatar Airlines, Arkia Israeli Airlines, KLM, FlyDubai, Meridian, Easyjet, Mango and Turkish Airlines. Or, you can take a 20-minute flight from Dar es Salaam to the airport in Zanzibar, called Abeid Amani Karume International Airport.
Alternatively, a ferry operates from the harbour in the centre of Dar es Salaam to Zanzibar City. It runs four times a day and prices are usually half that of plane tickets (around $35 at time of writing). The ferry takes around two hours. Note that the seas can be rather rough, so be prepared if you are prone to sea sickness.
Again, although Zanzibar is part of the Union, it has its own immigration service, and you need a valid passport to enter. And if you are travelling from countries that have Yellow Fever, you will need proof of vaccination.

Please note that plastic bags are banned in Tanzania and Zanzibar, but you can still bring reusable zip-lock bags in your luggage.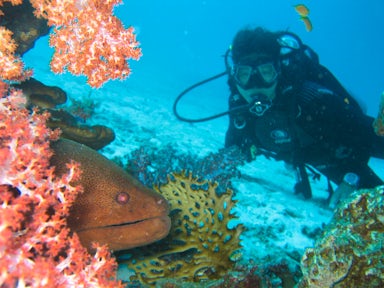 Get up close and personal with the breath-taking marine life.
People
The people of Zanzibar are proud of their semi-autonomous identity, calling themselves Zanzibari rather than Tanzanian. Even if you are not keen on language-learning, we recommend you learn a few key phrases like 'Mambo' (hello),so you can reply when the friendly locals call out to you.
Rural Tanzanians have a habit of calling white people 'mzungu', or 'white person'. This is not meant as an insult.
98% of Zanzibar's population is Muslim, and as such there are some cultural and religious norms in recognition of this. Keep to the following guidelines to remain respectful to the population:
Men and women should cover the shoulders and knees when walking through town. Beach wear is fine on the beach, but do not wear it through the streets of Stone Town.
Visitors should be discreet when drinking alcohol.
No public displays of affection.
No one will 'tell you off' for breaking these unspoken rules, but it is important to show respect to the host country's residents and their beliefs.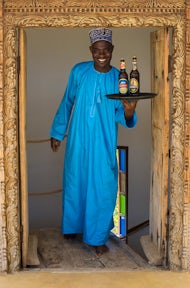 Permits, visas, and vaccines
As a semi-autonomous region, Zanzibar requires a separate visa for those travelling from the UK, Canada, US, Australia and New Zealand (although other commonwealth member states, South Africans, Namibians and others do not require a visa).
The tourist visa can be bought on arrival, or online. In both instances, the visa costs $50 for a 3-month single entry visa, or $100 for US passport holders (at time of writing). This can be paid in cash or by card.

Zanzibar requires yellow fever vaccines for those who have travelled from yellow fever epidemic areas - so if you have just finished a safari in Tanzania, don't forget to bring along proof of vaccination. WHO recommends the following vaccines for Tanzania in general: Hepatitis A and B, Tetanus, Typhoid, Cholera, Rabies.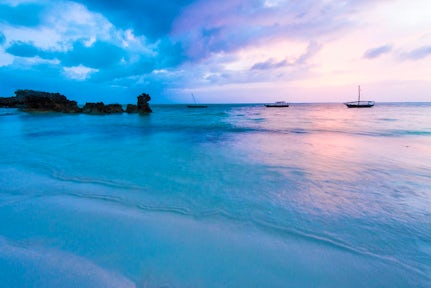 Popular Trips to Tanzania & Zanzibar
The tours below showcase just some of what is possible. Use these itineraries as starting points, or to draw inspiration. Then get in touch, and let our expert team help craft the perfect itinerary for you.
Ready to plan your African adventure?
1
Listen
We'll spend some time listening to your aspirations, then discuss the kind of experience that might suit you.
2
Match
Next we'll discuss the options, shortlist the best trips for you and present you our impartial recommendations.
3
Reserve
We'll place a 24 hour hold on your preferred option - without obligation - whilst we talk through the details.
Whatever your budget, group size, length of stay, preferred activity or appetite for adventure, we can help.

+1 315 636-4279