Lewa Conservancy, at a glance
Created to maintain and increase the population of some of Africa's most critically endangered species, the 62,000-acre conservancy contains many different types of habitat - from plains to rolling hills, swamps to forests.
Beyond the wildlife, Lewa places huge importance on community-related projects and has spearheaded a number of initiatives to support education, water improvements, and healthcare in the local community.
The conservancy is home to the Big Five and has extraordinary diversity. It is famous for having one of the highest populations of rhinos in the world.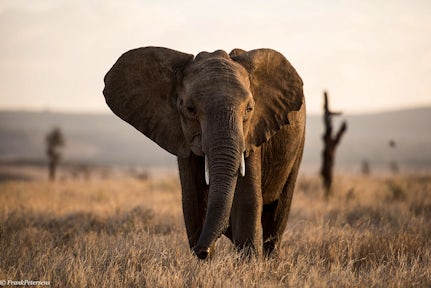 Just as we left the park, Lewa Wildlife Conservancy
Lewa's History
Lewa was founded by the Craig family and Anna Merz. The Craig family first arrived in the 1920s and used the land as a cattle ranch for 50 years after being given the land by the colonial government. Unlike other ranchers, they always valued the local wildlife and shared it with the animals as well as enabling tourists to visit.
In the 1980s, Anna Merz contacted the Craigs asking if she could build a place to protect rhinos, which were critically threatened and facing extinction due to poaching, with just a few hundred remaining.
Starting with 5000 acres of fenced land, the initiative was a great success with rhinos breeding - guarded by an electric fence and security. The Craigs were then given permission to relocate many of the rhinos in the north of Kenya to protect them.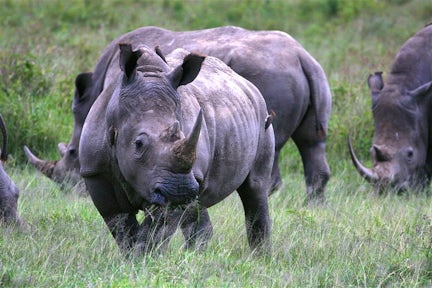 The effort to protect rhinos is an important one
The breeding and conservation programmes were so successful that tourists from around the world started to visit, leading the Craig family to devote the entire 40,000-acre ranch to form the Lewa Conservancy, a non-profit. The perimeter was fenced, with a few gaps being left to enable animal movements.
Lewa has been home to many famous visitors - including HRH Prince William who worked here during his gap year. It's rumoured that he loves the place so much that he proposed in Lewa to Kate Middleton when they were on Safari together.
In addition to wildlife, Lewa is also home to the famous annual Lewa marathon with over 1500 runners. The marathon has raised over $8m in its 20-year history and weaves its way through the park, making it one of the most picturesque marathons in the world.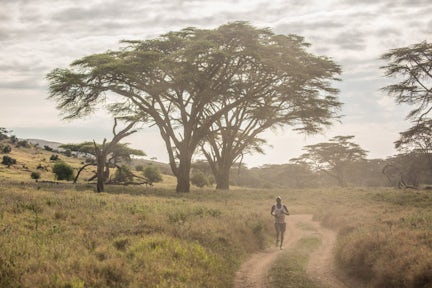 The Lewa Marathon - a run like no other
Safari Snapshots
Pictures taken by Brilliant's Tom on safari in Lewa Conservancy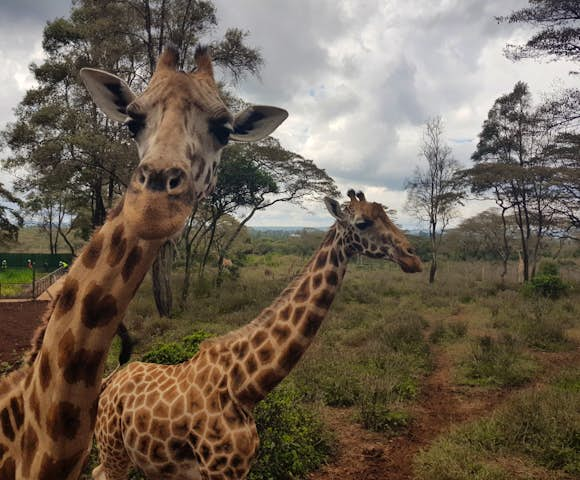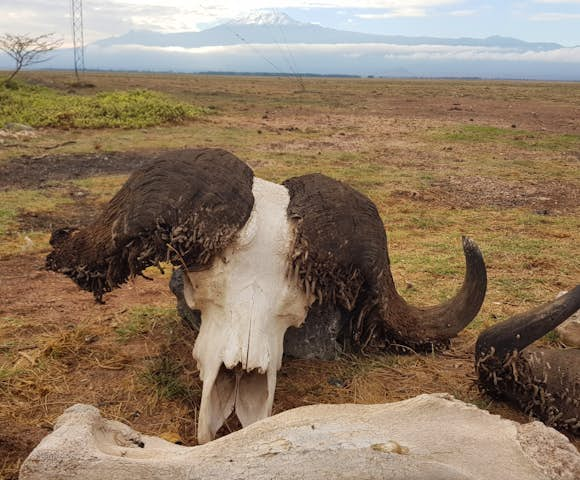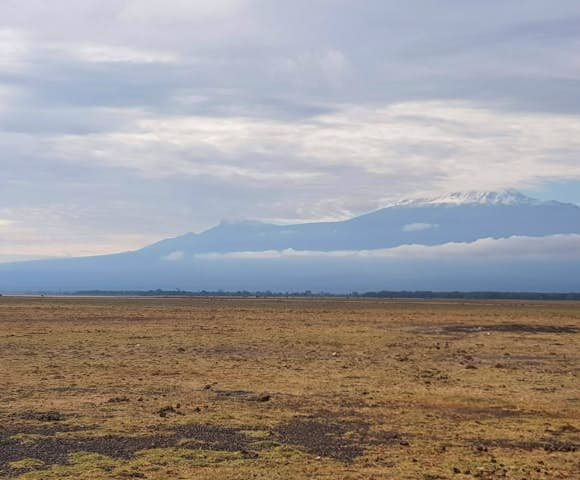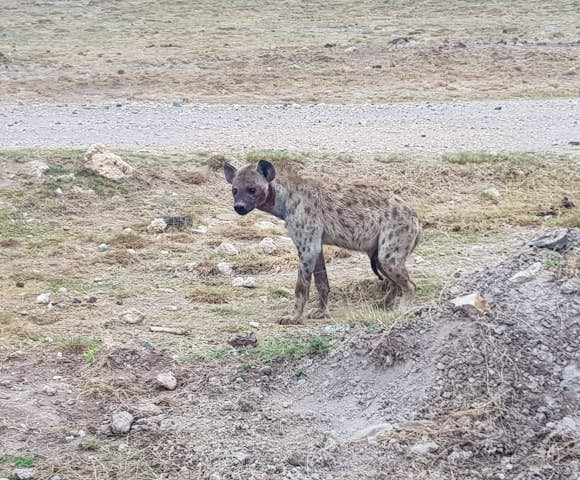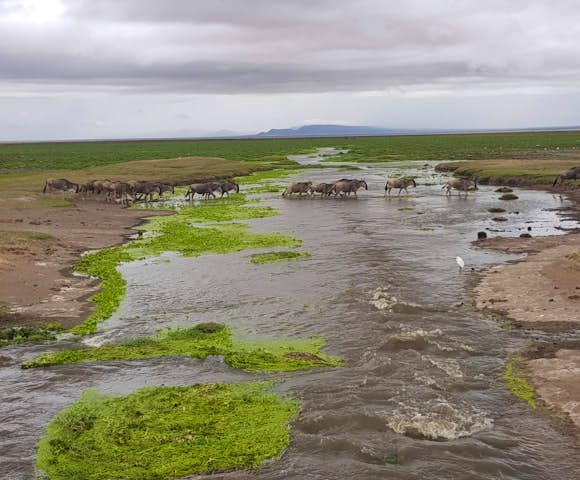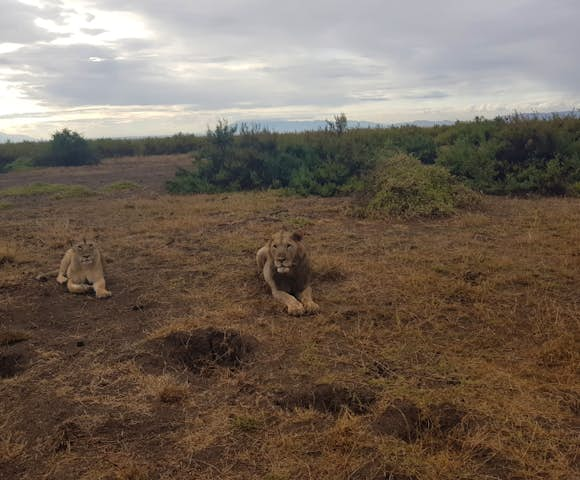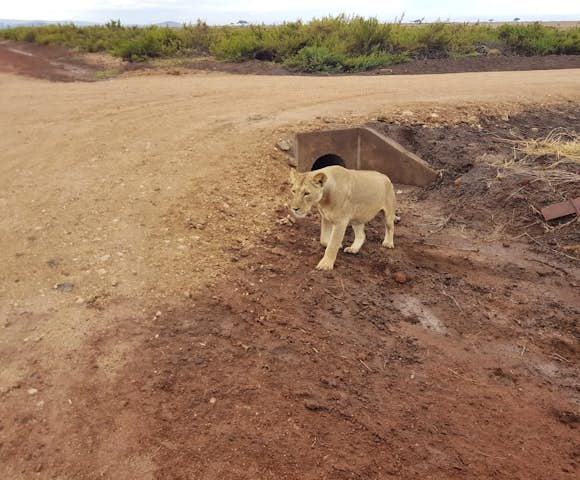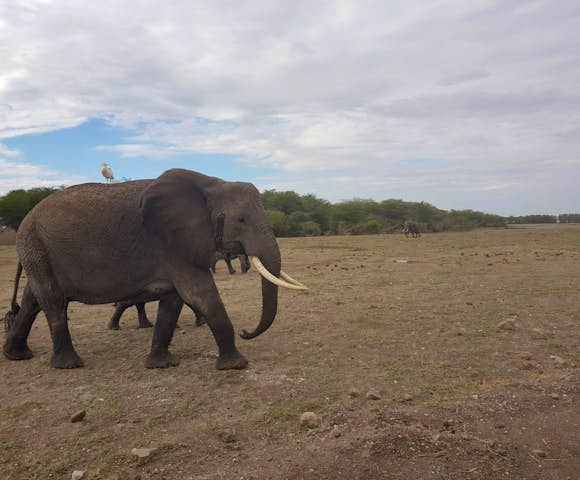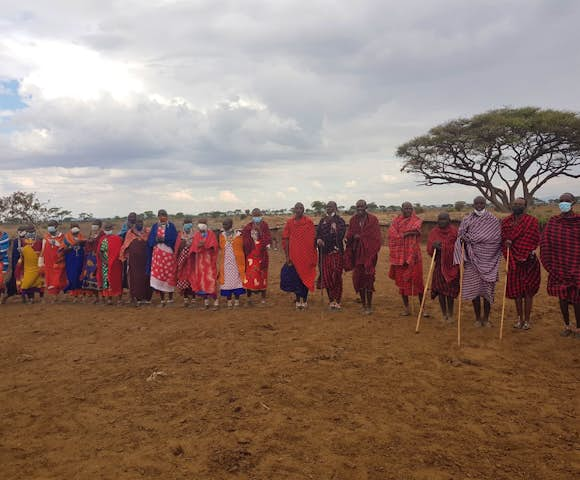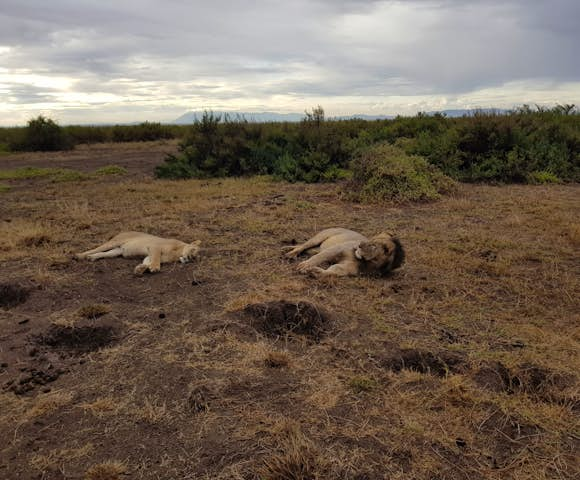 Wildlife in Lewa Conservancy
Lewa Conservancy is home to some of the rarest species in the world, including 214 black and white rhinos - the most in any safari park globally. It sits as a sanctuary within a volatile region where banditry and poaching were prolific.

Over 90% of all Grevy zebras found outside captivity can be found at Lewa as well as reticulated giraffes.
Lions, cheetahs, wild dogs, leopards, and a range of birdlife can be found in the conservancy, making it one of the most ecologically diverse parks in the country.
Lewa also sees an influx of animal activity during the migratory periods, with over 400 elephants traversing the grounds during each cycle. Visitors can witness the spectacle from a purpose-built Elephant Underpass.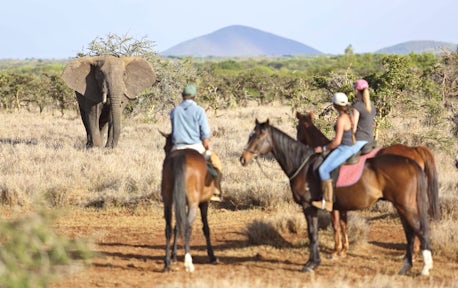 Roadblock, Lewa Wilderness
Activities in Lewa Conservancy
There are many activities within Lewa, from those based in the camps to horse riding, camel riding, and hot air balloon trips at dawn. Most camps will also offer walking safaris, night drives, bush breakfasts, and sundowners in magical spots. Further afield, there are also waterfalls and walking in Ngare Ngare forest.
Cultural visits to local Maasai villages are also available. These are fascinating and enable you to see how the tribes live - you'll usually be greeted with a welcome ceremony including a dance (participation is often encouraged). Although it can feel a touch voyeuristic, the villagers enjoy showing off their homes and the visits provide much-needed income for them, so please remember to tip well and purchase souvenirs.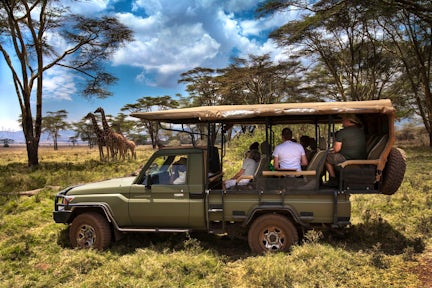 A classic safari experience at Lewa Conservancy
Ngare Ndare Forest
The local Ngare Ndare Forest makes for a great day trip outside the conservancy.
The forest's dense shrubbery and tightly packed trees are juxtaposed with the vast, smooth plains of the conservancy.
The main hike through the forests eventually leads to a waterfall. The flow from the falls is seasonal, and they are at their strongest in the rainy season or just after. The pool below the falls is safe to swim in.

If you are visiting outside the dry season, the waters are not as clear as they are in the summer months, instead becoming muddy and murky.
After the falls, you can continue your hike across the canopy where you have 360 degree views of the conservancy and the surrounding countryside.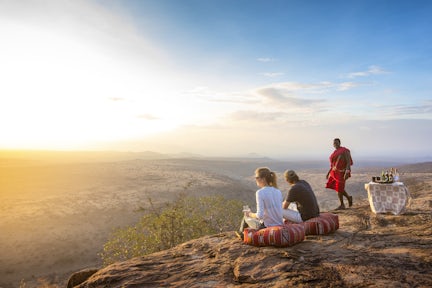 Worth the hike, Lewa Wilderness
Popular Trips to Kenya
The tours below showcase just some of what is possible. Use these itineraries as starting points, or to draw inspiration. Then get in touch, and let our expert team help craft the perfect itinerary for you.
How to get to Lewa Conservancy
Lewa Conservancy (also known as the Lewa Downs) is in Meru County. Just north of the equator, it qualifies as being in North Kenya even though it's actually in the centre of the country. Lewa is a 4-hour drive north of Nairobi. Although it's easily accessible by road, most people choose to fly.
Direct flights run from Wilson Airport in Nairobi to the airstrip in Lewa, where it's usually no more than 30-45 mins to your camp (with game viewing en-route).
SafariLink and AirKenya are the primary domestic flight operators. They run a reliable network connecting most of Kenya and will enable you to get to your onward destinations such as the coast.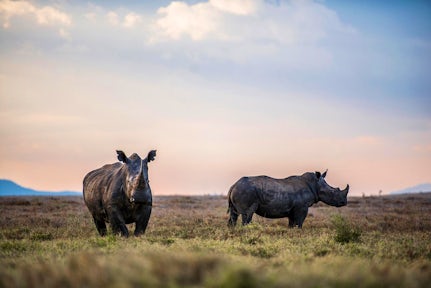 Over 170 black rhinos live in Lewa Wildlife Conservancy
When to visit Lewa Conservancy
Traditionally, the best times to visit Lewa Conservancy is from June to September, and again from December to March. However, with climate change, the seasons have shifted and are less reliable so as long as the camps are open, there is likely to be good viewing.
Most of the year is dry season, when conditions are best for safari and sightings are more common due to wildlife gathering around water sources. However, the rains bring an extraordinary transformation in the landscape, when the arid, brown grasses burst with greens and colour. Most Kenyans - and most of the animals - are delighted when the rains finally arrive.
The unpredictable weather patterns during the main wet season are from April to June. This means that excursions might be cancelled at the last minute. The 'short rains' which occur between October and December can sometimes disrupt a safari, but generally are short and only last a few hours.
Morning game drive, Lewa Wilderness
Lewa's work with Neighbouring Conservancies
Lewa neighbours a number of other conservancies, and pioneering work has been done to try to interlink these areas to enable animals to roam.

Lewa is part of the UNESCO Mt Kenya World Heritage Site and sits at the foothills of the mountain. There is a multi-kilometre 'elephant corridor' that runs between Lewa and the Mt Kenya National Park via the Ngare Ngare Forest Reserve. The creation of the 14km Corridor allows the free movement of elephants between these regions, to reduce human-elephant conflict and to increase the genetic diversity of the whole elephant population.

Countless wildlife species now benefit from the protection, safe passage and habitat of the Corridor. Last year, over 1,000 elephants used the underpass. In addition, many other species of wildlife are frequently recorded, including leopards, zebras, serval cats, spotted hyenas, and warthogs. Even a lost rhino wandered in!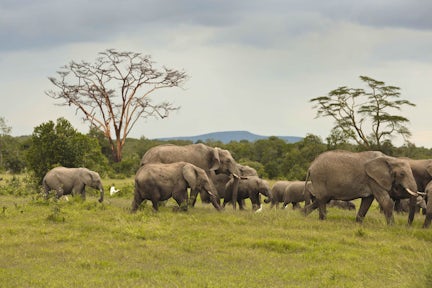 A family of elephants in the clearing, large but friendly
Lewa Conservation Initiatives
Lewa has pioneered many conservation initiatives, including locally-led wildlife protection and community development programmes - making it a hugely important and successful example of the way in which conservancies can be run.
Further initiatives include avian research, preventing poisoning, rhino ear notching, hyena monitoring, and studying lion behaviour.
Security is very tight on Lewa with a force of armed and unarmed rangers. The conservancy works closely with surrounding communities and has seen very little poaching in recent years, although sadly 2 rhinos were killed in 2019, the first in 6 years.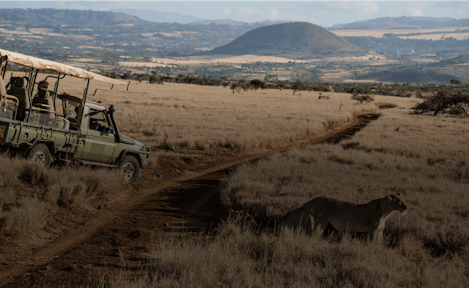 Spotted on the way home, Lewa Wildlife Conservancy
Examples of working with neighbouring communities include collaring elephants, building elephant exclusion zones (they can be very destructive) to enable trees to grow, reinforcing fence lines and creating predator-proof livestock enclosures.
In 2020, there were affordable healthcare schemes (which almost 50,000 people benefitted from), clean water, 1,800 microloans to small businesses run by women, immunisation, and other health initiatives. Lewa has also trained 4,800 farmers in sustainable agriculture, built 24 classrooms and reached 7,700 students and teachers each year.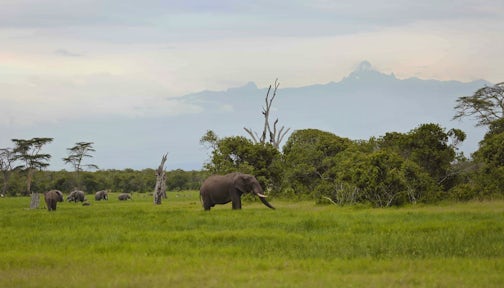 Grazing elephants, off in the distance
Safari Snapshots
Pictures taken by Brilliant's Tom on safari in Lewa Conservancy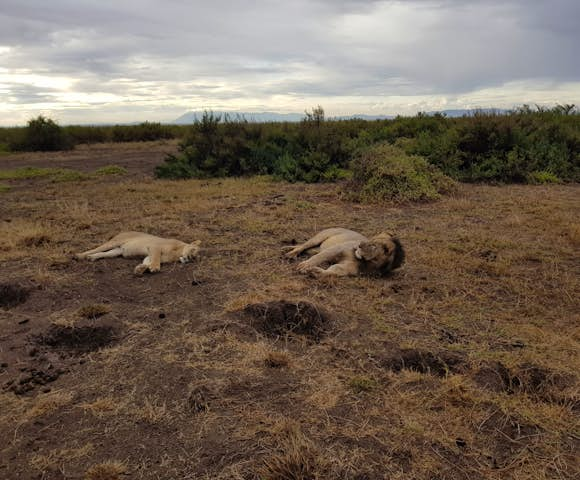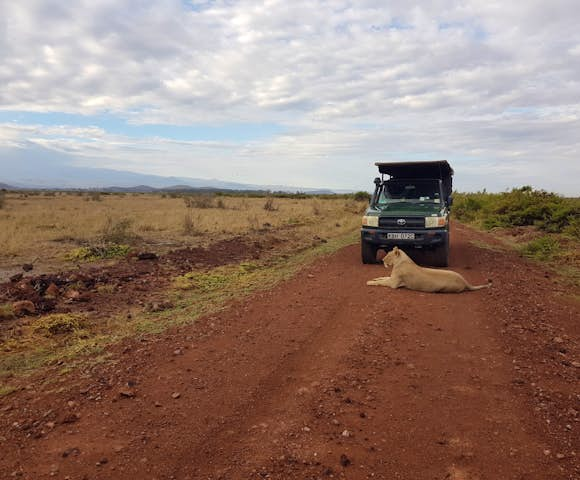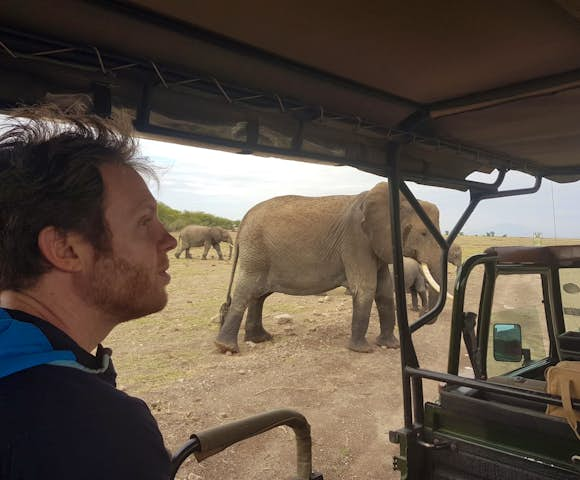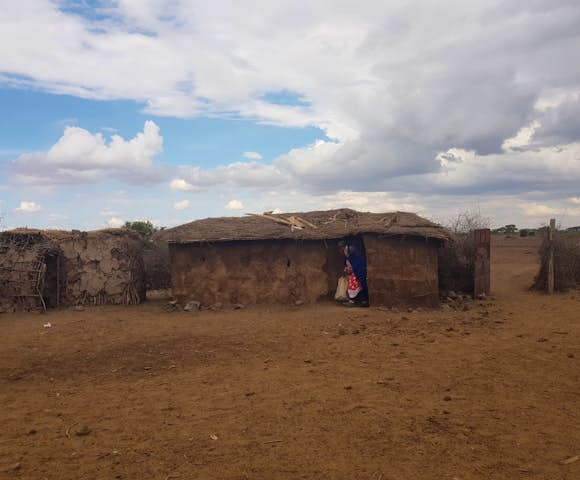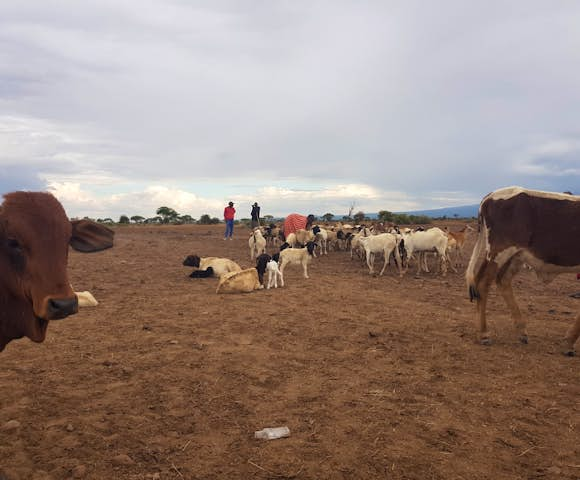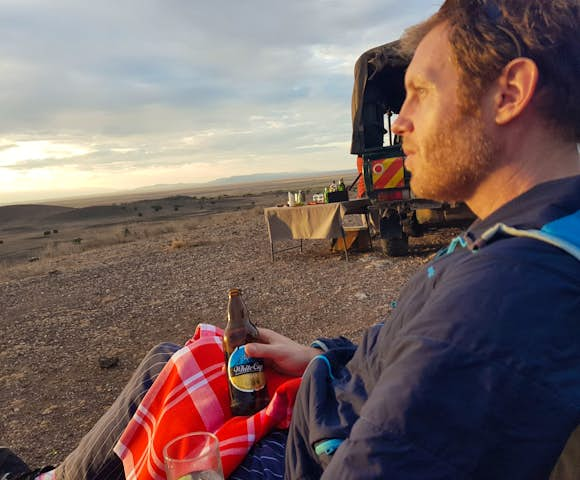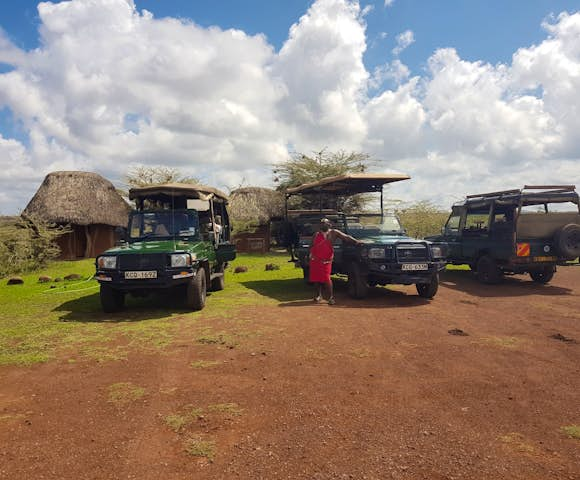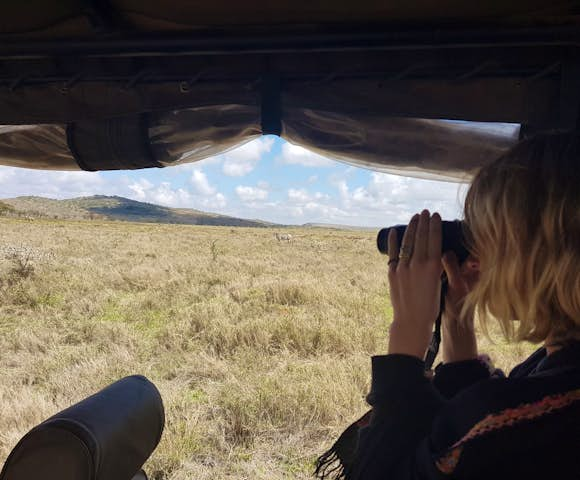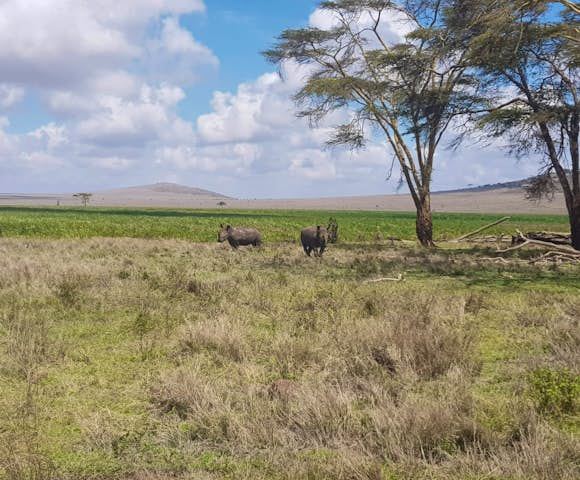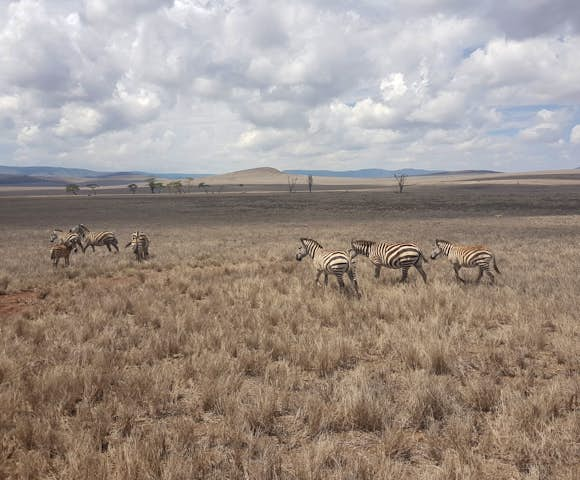 Accommodation in Lewa Conservancy
Elewana Lewa Safari Camp
Featuring luxury tented bedrooms with amazing views, Lewa Safari Camp offers access to 65,000 acres of private protected wilderness. One of the most popular in the conservancy, the camp has excellent food and a pool with views surrounded by the bush home to many birds, such as the weaver birds that chatter in the trees behind the veranda.

There are eleven rooms available, all equipped with verandas offering views that stretch far beyond the conservancy borders. The tents are small, but luxurious each with a small veranda, bathroom and comfortable beds.
All the profits and fees raised by the camp are reinvested into the conservancy.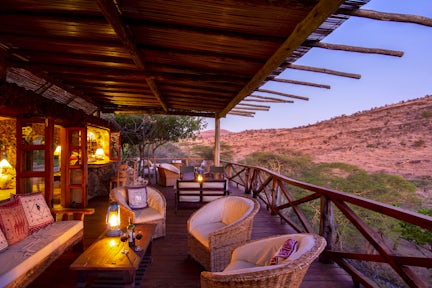 Lewa Safari Camp, Lewa Wilderness
Lewa Wilderness
Nestled into sloping hills, Lewa Wilderness is one of Kenya's original safari lodges. With expansive views of the conservancy, it provides both a spacious and personal experience.
Just nine exclusive rooms dot the Lewa Wilderness landscape. Six cottages are tucked into the hillside overlooking the sprawling Eastern Marania Valley, plus a further three garden cottages that are cozy yet expansive are set amongst the beautiful lawn.
Lewa Wilderness goes beyond the average game drive, with exceptional wilderness viewing opportunities. From traditional game viewing drives (they've recently converted one of our Landcruisers to be 100% electric) to guided walks and scenic flights in their retro plane, to unforgettable horse riding safaris.

Much of the money from stays here goes to support the conservancy and help them continue protecting Kenya's wildlife.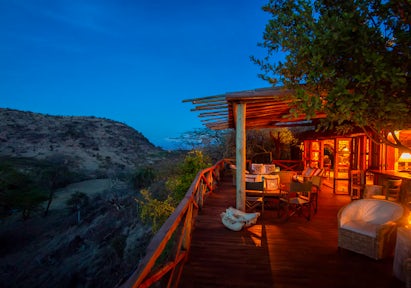 The view from Lewa Wilderness Lodge
Lewa House
Lewa House also offers similar accommodation as Lewa Wilderness. Situated above the Lewa Conservancy at the foothills of the stunning Mount Kenya, it's a luxury lodge on the World Heritage Site. Cottages are dotted around the grounds for those seeking exclusivity, with the actual house providing the common area for all the guests.
There are only seven rooms available: 3 Family Cottages - cosy stone and thatched builds consisting of two spacious en-suite bedrooms (one double, one twin), and 4 Earth Pods - unique in their design, they consist of one en-suite bedroom, an outdoor bath, and an indoor shower.
Game drives, walking safaris, horseback safaris are available for guests to take advantage of, but the helicopter safari is the most unique excursion on offer at Lewa House.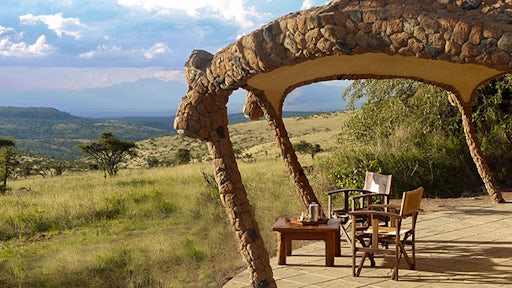 Looking out over the plains at Lewa House
Elewana Kirafu House
Kifaru used to be owned by a wealthy American donor but has recently been transformed into a luxurious high-end camp. There's a large dining area bookended with cosy fires, a library stuffed with books, and an infinity pool with views of the plains below (binoculars are recommended so you can watch rhinos, elephants and other game from your sun lounger).
The camp is made up of five charming thatched cottages, all with well-appointed bedrooms, four-poster beds and generous en-suite bathrooms. The cottages are surrounded by an oasis of vibrant lawns filled with birdsong and spectacular views of the plains below.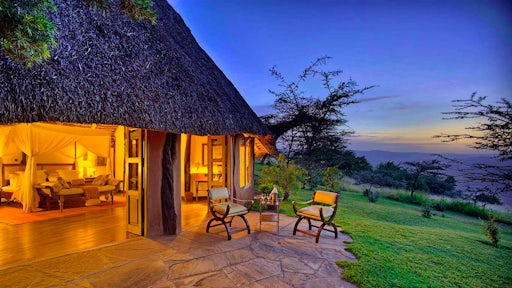 Watching the African sunset at Kifaru House
Popular Trips to Kenya
The tours below showcase just some of what is possible. Use these itineraries as starting points, or to draw inspiration. Then get in touch, and let our expert team help craft the perfect itinerary for you.
Ready to plan your African adventure?
1
Listen
We'll spend some time listening to your aspirations, then discuss the kind of experience that might suit you.
2
Match
Next we'll discuss the options, shortlist the best trips for you and present you our impartial recommendations.
3
Reserve
We'll place a 24 hour hold on your preferred option - without obligation - whilst we talk through the details.
Whatever your budget, group size, length of stay, preferred activity or appetite for adventure, we can help.

+1 315 636-4279