Lake Nakuru, at a glance
Located in the Great Rift Valley, Lake Nakuru sits at an elevation of 1,745 m, and it is famous for the vast numbers of flamingos that feed off its algae. Lake Nakuru varies in size according to rainfall, and its surface area varies between 5-45 km².
The park lies south of Nakuru, the fourth-largest settlement in Kenya. Feeding pressures and pollution have reduced the flamingo population in recent years, but there are now signs of recovery.
Lake Nakuru National Park is also home to a large rhino population. These beasts can often be spotted lazing under the shade of the luscious acacia trees that surround the lake.
Surrounded by waterfalls, cliffs, and forests, the lake is a vital water source for zebra, buffalo, and the endangered Rothschild giraffe.

Where does Lake Nakuru National Park fit into my Kenyan adventure?
Lake Nakuru's flamingos are the park's primary attraction. However, you also have the chance of seeing a broader variety of species, including rhinos, giraffes, and leopards.
Lake Nakuru is a great standalone day trip if you don't have enough time to visit Kenya's more popular national parks like the Maasai Mara or Amboseli.
Just a 3.5-hour drive from Nairobi along the Nairobi-Nakuru Highway, Lake Nakuru National Park is easily accessible from the capital.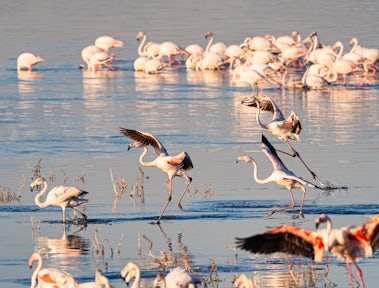 A flock of flamingos on the lake
Wildlife at Lake Nakuru National Park
Lake Nakuru National Park supports a spectacular array of wildlife, including 400 bird species, over 50 mammal species, and over 50 species of flora.
In 1987, the park was declared a rhino sanctuary, and the park's white and black rhinos have thrived in recent years. In 2009, the park was home to over 25 eastern black rhinoceroses and around 70 southern white rhinoceroses.
However, Lake Nakuru is most famous for the flocks of up to 2 million greater and lesser flamingos that nest on its shores.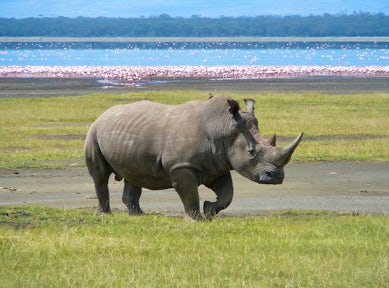 In 1977, the endangered Rothschild Giraffe was introduced to the park. These giraffes were relocated from western Kenya for their protection, and Lake Nakuru is now home to a healthy population of Rothschild Giraffes.
You can also expect to see waterbuck, Cape buffalo, hyenas, and hippos. Fortunate adventurers may get a glimpse of lions, cheetahs, and leopards. Leopard sightings have increased in recent years.
Large pythons inhabit the park's woodland, and you may see them hanging from trees.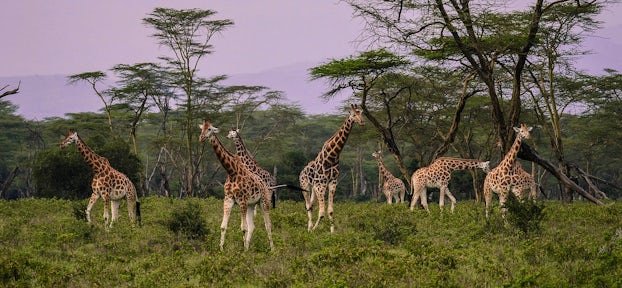 Top 5 things to do in Lake Nakuru
Brilliant says
The park entrance fee is around $60 USD for adults and $35 USD for children. You can only pay by card on arrival. If you have booked your trip with us, all entrance fees are included in your trip price.

Getting to Lake Nakuru National Park
If you are driving from Nairobi, you can travel along the Nairobi-Nakuru Highway. The drive takes around 3.5 hours, and you will drive along a mixture of tarmac and gravel roads. From the town centre at Nakuru, it is a further 4km to the entrance gate to the park.
If you are coming up from the Maasai Mara, you can use the Nderit Gate entrance on the west side of the park.
It is also possible to fly to from Nairobi, and the flight from Jomo Kenyatta International Airport Lake Nakuru to the Naishi Airstrip takes just 25 minutes.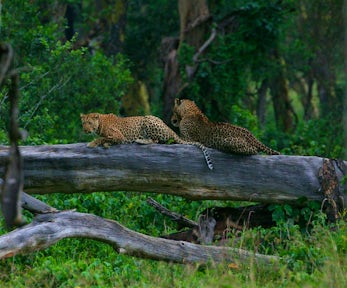 When to visit Lake Nakuru National Park?
The best time to visit Lake Nakuru National Park is during the dry seasons. June to October is the long dry season, and January to March is the short dry season.
During the dry seasons, many of the smaller watering holes dry up, causing animals to gather at Lake Nakuru for water. This significantly increases your chances of wildlife sightings.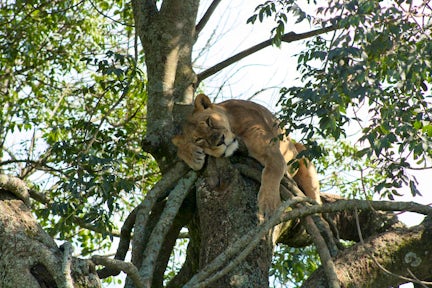 Accommodation in Lake Nakuru National Park
Camping sites
Flamingo Hill Tented Camp: Located in the north of the park, this exclusive camp offers 25 furnished tents which have sweeping views over Lake Nakuru. Each tent includes 2 four poster beds, an en-suite with a shower, and a private veranda that overlooks the plains of Lake Nakuru National Park.
Makalia Camp: Situated in the south of the park next to Makalia Falls and a small river that flows into Lake Nakuru, this camp has a great location. This public campsite is a good budget option.
Rhino Campsite: This popular camp is situated 38km from the main gate of Lake Nakuru National Park. You can choose between a farmhouse which has 4 comfortable rooms that can house up to 10 guests, and a well-maintained camp site.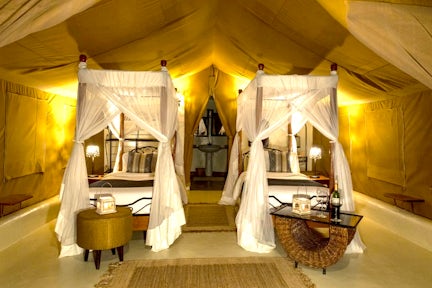 Lodges
Mbweha Camp: Located on the southern border of the park, this luxury camp is a great base for your adventures. Nestled within vast acacia trees and thick vegetation, the lodge has a pool and 10 rustic cottages with thatched roofs. The camp offers a range of activities and you can even try a gourmet bush lunch.
Lakira Camp Nakuru: An intimate and quiet lodge, masked away in trees and foliage of the park. The discreet location gives you a better chance of coming closer to the wildlife. This luxurious camp has scenic views of the glistening lake and has a more classic bush-camp aesthetic.
Lake Nakuru Lodge: An eco-friendly lodge which offers sweeping views of the verdant countryside that surrounds the lake. Its restaurant serves a delicious menu of Indian, African, and American dishes.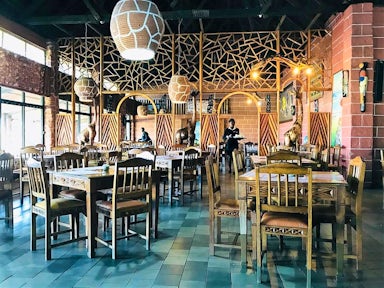 Popular Trips to Kenya
The tours below showcase just some of what is possible. Use these itineraries as starting points, or to draw inspiration. Then get in touch, and let our expert team help craft the perfect itinerary for you.
Ready to plan your African adventure?
1
Listen
We'll spend some time listening to your aspirations, then discuss the kind of experience that might suit you.
2
Match
Next we'll discuss the options, shortlist the best trips for you and present you our impartial recommendations.
3
Reserve
We'll place a 24 hour hold on your preferred option - without obligation - whilst we talk through the details.
Whatever your budget, group size, length of stay, preferred activity or appetite for adventure, we can help.

+1 315 636-4279