Lake Manyara, at a glance
Located in the Arusha Region of northern Tanzania, Lake Manyara is the centrepiece of the Lake Manyara National Park. Lake Manyara is a soda lake and its 230km² surface covers two thirds of the park's total area.
Designated as a national park in 1960, Lake Manyara National Park is home to a diverse range of stunning landscapes, including marshland, dense acacia woodland, and steep rocky slopes.
Lake Manyara National Park is famous for housing vast flocks of flamingos, tree-climbing lions, and one of the highest concentrations of elephants in all of Tanzania.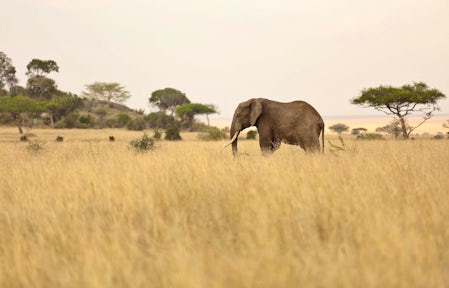 Where does Lake Manyara fit into your Tanzanian adventure?
Lake Manyara is part of the northern circuit of national parks in Tanzania. A popular route is to start in Arusha and visit Lake Manyara before continuing to Serengeti National Park, Ngorongoro Conservation Area, and finishing your adventure at Arusha. These attractions can be combined as part of a 5-6 day itinerary.
Although Lake Manyara National Park does not contain as much wildlife as its bigger sisters, the Ngorongoro Crater and the Serengeti, scientists believed that Lake Manyara contained one of the highest concentrations of wildlife in Africa during the 1980s.
Your park entry fee (US$53.10 per adult, per day at time of writing) will support conservation work that aims to return the park to its former glory as one of Africa's most biodiverse areas.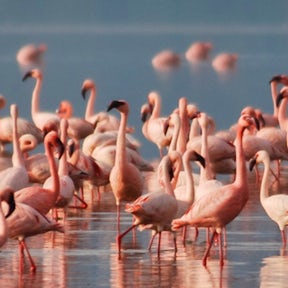 Wildlife at Lake Manyara
Lake Manyara National Park is home to a diverse ecosystem which contains a range of habitats, including a soda lake, acacia woodland, equatorial forest, several types of savannah, and even mountain slopes.
Lesser flamingos and pelicans thrive at Lake Manyara, but its alkaline waters are undrinkable for most other animals. However, many animals are forced to drink Lake Manyara's alkaline waters to survive the dry season since most other water sources dry up completely.
Lake Manyara National Park is famous for its tree-climbing lions. The park's lions tend to climb trees far more often than lions in the Serengeti National Park or Tarangire National Park. This phenomenon has baffled scientists and seeing tree climbing lions on a game drive is an unforgettable experience.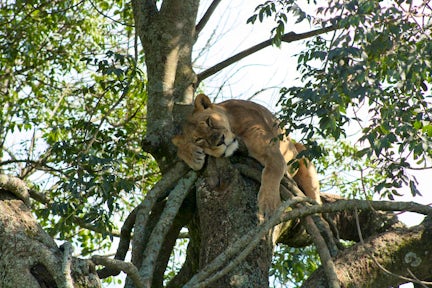 Hot springs can be found in the south of the park, and the park is bisected by 2 rivers, the Mto wa Mbu River and the Endabash River.
Lake Manyara National Park is home to 400 bird species, and it is a paradise for bird enthusiasts. The park also contains water buffaloes, zebras, antelopes, wildebeests, and the world's largest concentration of baboons.
The park's elephant population has suffered from poaching, but conservation efforts have protected a strong population of these gentle giants.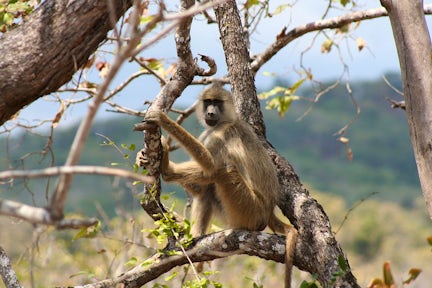 Getting to Lake Manyara
Most travellers visit Lake Manyara National Park from Tanzania's safari capital, Arusha. By road, Lake Manyara is 126km from Arusha, and the drive to the northern gate takes 1.5-2 hours along a new tarmac road.
You can also fly to Lake Manyara Airport (LKY) from Kilimanjaro International Airport (KIA), and the journey takes around 40 minutes. Kilimanjaro International Airport is located around 46km from Arusha.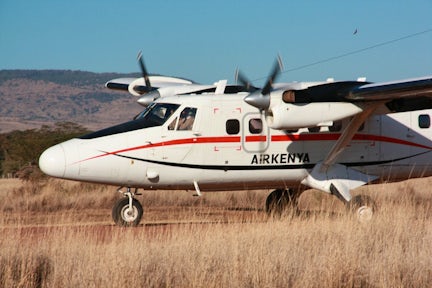 When to visit Lake Manyara?
Like all of Tanzania's national parks, Lake Manyara's peak season is during the dry monthsfrom July to September.
The short dry season from mid-December to early March is also a good time to visit, but the temperatures can get very hot during this period.
Although you will see wildlife during the wet season, it will be more difficult to spot animals amongst the luscious vegetation. In the dry season, animals are drawn to the few remaining water sources and wildlife viewing opportunities are excellent.
Bird enthusiasts may choose to visit during the short rainy season from the end of October to December. Migratory birds visit the park during these months, but muddy roads may be impassable, and some lodges close during the low season.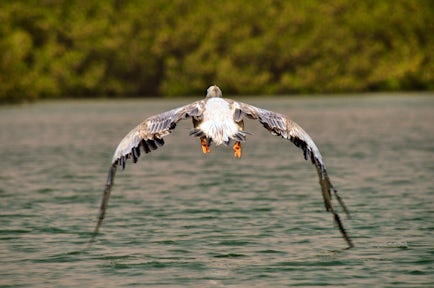 Activities at Lake Manyara National Park
Choose between early morning, afternoon, and night safaris, and expect to see an abundance of wildlife. You can expect to see a range of large mammals, including tree-climbing lions, elephants, buffaloes, and warthogs. The park is also home to smaller mammals, including dik-diks and honey badgers.


You can take a tour of a Maasai boma or visit Mto wa Mbu, a small town which is adjacent to the park. Visiting this rural market town is a great way to immerse yourself in semi-rural Tanzanian life. Mto wa Mbu's is a melting pot of local tribes, and you can try local banana beer, visit a brewery or a farm, and enjoy a traditional Tanzanian meal.

Cultural tourism can be a great way to discover a country, but it also has some ethical implications. Cultural tourism can have a great effect on rural communities and bring money into a region, but you should exercise caution. Some cultural tourism can perpetuate dangerous stereotypes and create a rift between travellers and the local community.

We recommend that you go with a guide as they can inform you about local customs and help you in difficult circumstances.


Home to over 400 bird species, Lake Manyara National Park is an excellent location for bird watching. You have a chance of seeing pelicans and flamingos on the lake, and egrets, yellow-billed storks, and marabou stalks on the floodplain.

Accommodation at Lake Manyara National Park
Lake Manyara Tree Lodge: Owned by &Beyond, this luxury lodge is nestled within an ancient mahogany forest. You can choose between 9 exclusive treehouse suites, and your private butler will ensure that you have a relaxing stay. The lodge has a refreshing outdoor pool and a spa which offers a range of massage treatments. This lodge is also one of the few lodges that offers night safaris within the park.
Chem Chem Safari Lodge: Situated on the eastern shores of Lake Manyara, this lodge is split across 3 locations. The main site is close to Lake Manyara National Park. The lodge offers 8 spacious, tent-style suites which are all at least 80m apart. Chem Chem is perfect for travellers who value their own space.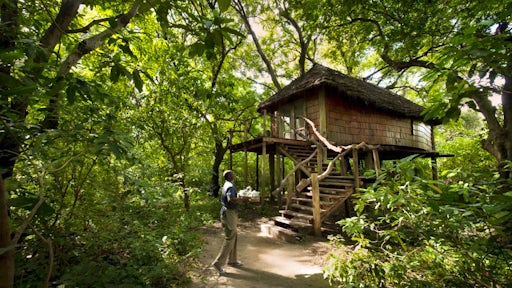 Lake Manyara Ranch Conservancy: Located within a private conservancy just outside of Lake Manyara National Park, this campsite offers 8 spacious tents with 7-foot beds. Each tent has a wardrobe, a writing table, and wooden storage chests.
Lake Manyara Serena Lodge: This tranquil retreat is located just outside of Lake Manyara National Park. The lodge offers a range of exciting activities, including community lunches where you can learn more about Maasai culture,and daily game drives. You can choose between a comfortable standard room and the luxurious Losimingori Suite.
Manyara Green Camp: Owned by Wayo Africa, this sustainable camp offers 8 square en-suite eco tents on raised platforms which are situated on the banks of the Endabash River. You can choose between communal dining in the spacious mess tent or private dining. Each tent has a comfortable bed and a decking area, and they are designed to minimise their environmental impact without compromising on comfort.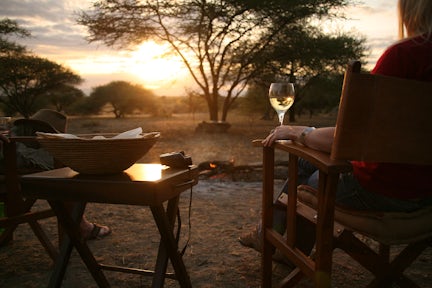 Popular Trips to Tanzania
The tours below showcase just some of what is possible. Use these itineraries as starting points, or to draw inspiration. Then get in touch, and let our expert team help craft the perfect itinerary for you.
Ready to plan your African adventure?
1
Listen
We'll spend some time listening to your aspirations, then discuss the kind of experience that might suit you.
2
Match
Next we'll discuss the options, shortlist the best trips for you and present you our impartial recommendations.
3
Reserve
We'll place a 24 hour hold on your preferred option - without obligation - whilst we talk through the details.
Whatever your budget, group size, length of stay, preferred activity or appetite for adventure, we can help.

+1 315 636-4279