What we love about Namiri Plains Camp
An immersive experience - With the closest other camp being over an hours drive away, you'll feel like you've got the surrounding plains all to yourself.
Rare sightings - On your exploration, you might be lucky enough to encounter a beautifully unique wildcat by the name of Manja - the melanistic serval. Famous in the Serengeti, he has been featured on both BBC Earth and The Discovery Channel.
Incredible year-round - The famous wildebeest migration herds pass through Namiri Plains from October to May. Throughout the rest of the year, there are always hyenas, leopards and lions in the area to check off on your wildlife watching list.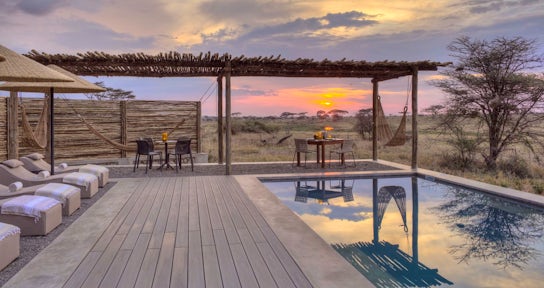 Accommodation
Namiri Plains Camp consists of ten tented suites that are spacious and stylish, overlooking the plains of the Serengeti. Sliding doors span the length of your room and open out onto your recently expanded private viewing deck.

Made from the ashes of Ngorongoro volcanoes, the luxury en-suite bathroom has a view over the plains and a standalone bathtub to relax in with a glass of bubbly on a private deck.
Also available to you are a swimming pool with a sun lounging deck, and a spa with an array of relaxing treatments.
Activities at Namiri Plains Camp
There is an abundance of activities to enjoy at Namiri Plains Camp, here are some of our favourites:
Game drives led by local expert guides
Hot air balloon safaris for a brand new point of view of the Serengeti
Various safari itineraries with a bounty of photo opportunities for photographers of all skill levels
Cheetah research with a resident specialist
Walking safaris in the morning and evening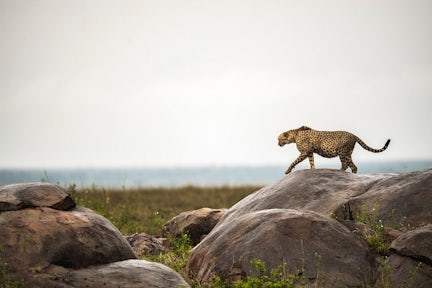 When to Visit
The Serengeti is amazing all year round.
The busiest months for tourism are July and August, so we recommend travelling in September to have a quieter safari.
The famous wildebeest migration herds pass Namiri Plains from around October to May. But throughout the year, there will always be hyenas, leopards and lions in the area.
The average high temperature is 27°C, with lows of about 15°C. The wet season begins in March, although you should still expect showers in January and February.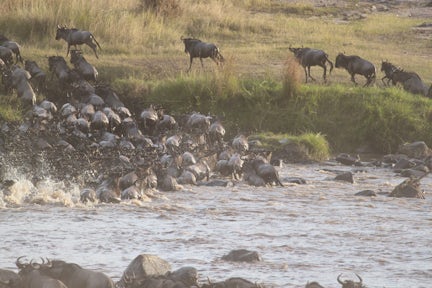 Ready to plan your African adventure?
1
Listen
We'll spend some time listening to your aspirations, then discuss the kind of experience that might suit you.
2
Match
Next we'll discuss the options, shortlist the best trips for you and present you our impartial recommendations.
3
Reserve
We'll place a 24 hour hold on your preferred option - without obligation - whilst we talk through the details.
Whatever your budget, group size, length of stay, preferred activity or appetite for adventure, we can help.

+1 315 636-4279