Mount Meru, at a glance
Where is Mount Meru located?
Mount Meru is located in north eastern Tanzania. Mount Meru is one of Africa's best trekking routes due to the incredible views from its crater.
Like Kilimanjaro, Meru is an active volcano, but its last minor eruption was over a century ago in 1910. Millions of years ago a major eruption blew off the top of the volcano, giving it a horseshoe shape. Its summit collapsed around 7,800 years ago and much of the volcano's bulk was lost.
It was first summited in the early 20th century by German explorers during their colonisation of East Africa, although it is disputed whether the first successful expedition was led by Carl Uhlig in 1901 or Fritz Jaeger in 1904.
The mountain is sometimes confused with Meru Peak, a mountain in the Himalayas. However, Mount Meru in Tanzania is a safer climb, and it offers an attainable challenge for trekking enthusiasts.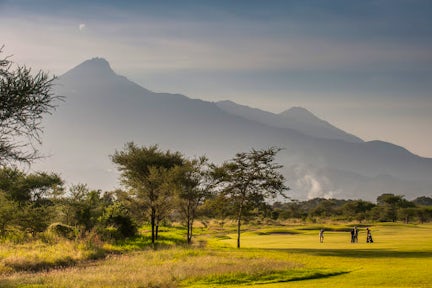 Kilimanjaro vs Meru - which one should I climb?
Meru is often dismissed in favour of its bigger and more renowned neighbour, Kilimanjaro. However, Meru is the 5th tallest mountain in Africa, and Meru treks are an attraction in their own right.
Meru is far less crowded than Kilimanjaro. On Kili treks, you can sometimes feel as though you are following a conveyor belt of trekkers. This rarely happens on Meru treks.
Meru's huts can fill up in the high season, but this is due to a lack of accommodation rather than the number of trekkers.
Mount Meru towers over Arusha National Park, and you will see an array of wildlife on your trek. On the lower slopes, you will encounter antelopes, buffalos, and other majestic animals. Your (compulsory) guide is armed to protect you from predators.

Meru treks are also much cheaper than Kili treks (around £1,000 cheaper). Meru treks are shorter than Kili treks, so the park and conservation fees don't rack up as much.
Finally, although Meru is smaller than Kilimanjaro, it is widely considered to be a more demanding trek, so you will still have bragging rights upon your return.
Many experienced climbers decide to climb Mount Meru in preparation for a Kili trek. You may choose to acclimatise on a Meru trek before you tackle Kilimanjaro.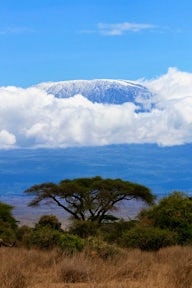 Flora and Fauna on Mount Meru
Mount Meru's slopes are home to an impressive range of wildlife.
You will pass through several climate zones during your ascent, including grasslands, tropical rainforest, moorlands, desert, and ice and snow at the top.
400 species of bird, buffalos, antelopes, white colobus monkeys, and leopards could all cross your path on your trek.
Mount Meru treks combine a conventional trek with a walking safari through a diverse variety of ecosystems.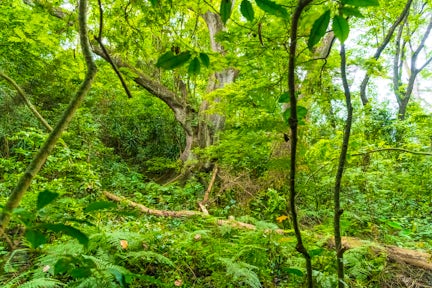 Places to stay in Arusha
In the town
During the trek itself, you will be sleeping in huts. We recommend staying in Arusha or Moshi for at least one night before and after your trip, although both towns have lots to offer for many days more.

There are several budget options in Arusha, including The African Tulip and the Impala Hotel. The Impala Hotel is a large hotel with a pool and restaurant, and it is a great option if you are looking for a place to stay after an international flight or the night before a safari.
The African Tulip is a quaint boutique hotel which offers an airport shuttle.
Most of the upmarket hotels can be found in the eastern area of Arusha. The Gran Melia Arusha offers fantastic views of Mt Meru, a well-stocked bar, a spa, and a pool.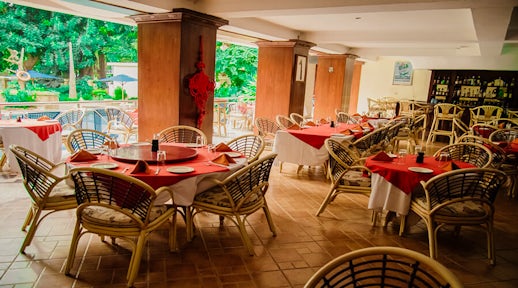 Outside the town
Some of the best accommodation options in Arusha lie outside of the city. The less expensive options include Onsea House, Rivertrees, and Arumeru River Lodge.
Onsea House is a charming boutique guesthouse that was originally a farmhouse. It has two swimming pools, a sauna, a steam room, and a jacuzzi, and its gardens are tranquil. The guesthouse also has a restaurant which serves delicious food. The guesthouse is only an hour away from the airport, making it an excellent place to relax before or after a safari. Onsea House offers 2 double suites and a family suite that overlooks the Meru Valley. The adjacent self-contained cottage is perfect for families.
Arumeru River Lodge is a peaceful lodge which offers great access to Kilimanjaro International Airport. It has vast gardens which are home to dik-diks, monkeys and countless bird species. On a clear day, the lodge has exceptional views of Mt Meru and Mt Kilimanjaro. The lodge organises horseback safaris and it is tastefully furnished with traditional dhow furniture.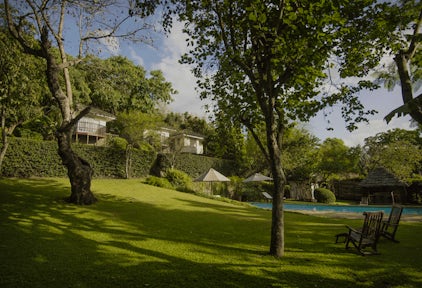 Rivertrees Lodge is located on an old coffee farm and with views of Mt Meru and Mt Kilimanjaro, the lodge is an excellent base for trekking. The delicious food matches the high quality of the coffee, and its oven-fired pizza pit is popular with its guests.
Arusha Coffee Lodge is just a 25-minute drive from Arusha, and this old plantation brims with luxury. The exquisitely decorated rooms are spread across the grounds and each room has its own indoor fireplace. Given that the lodge is a former coffee plantation, it offers tours of the old plantation house and coffee-making process. The theme of coffee runs throughout the hotel – in the bar, restaurant, gardens, and even the spa.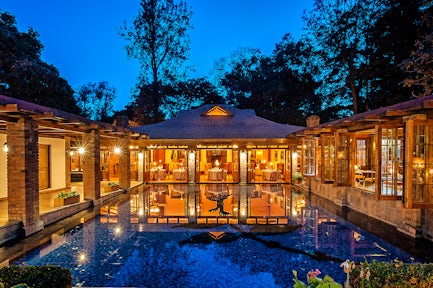 Places to stay in Moshi
Located 30 minutes from Kilimanjaro International Airport, the Pink Flamingo Hotel is a family-run boutique hotel which is just 5 minutes from Moshi Town.
The hotel has its own taxi drivers who will take you to the town for around US$5.
The hotel offers 3 individual properties, 2 of which have private swimming pools, and a main hotel building.
The lodge's beautiful grounds are a great place to recover after a Mount Meru trek.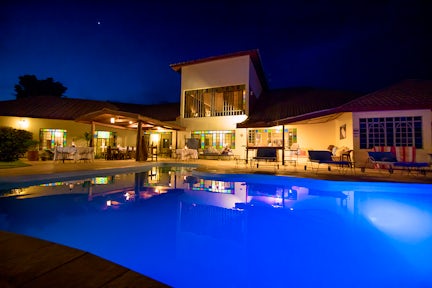 Popular Trips to Tanzania
Ready to plan your African adventure?
1
Listen
We'll spend some time listening to your aspirations, then discuss the kind of experience that might suit you.
2
Match
Next we'll discuss the options, shortlist the best trips for you and present you our impartial recommendations.
3
Reserve
We'll place a 24 hour hold on your preferred option - without obligation - whilst we talk through the details.
Whatever your budget, group size, length of stay, preferred activity or appetite for adventure, we can help.

+1 315 636-4279