Dar es Salaam at a glance
Dar es Salaam is a rapidly growing city home to just over 4 million residents. The name of the city, which loosely translates as 'haven of peace', is quite ironic given its chaotic, loud nature.
The city is hectic, and you could spend up to three hours in rush hour at night, but it is also a cultural hub. Those that enter the urban jungle will get a fascinating insight into local life and culture.
The city has exquisite restaurants, good nightlife, and several beautiful beaches. Its status as the economic hub of Tanzania makes it well-connected to surrounding cities, Zanzibar, and the national parks in the south.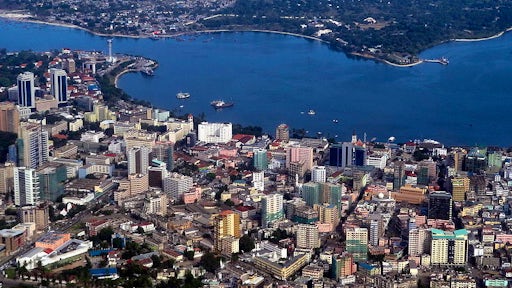 History of Dar es Salaam
Dar es Salaam started out as a small village on the coast, called Mzizima (Kiswahili for 'healthy town'), but it was transformed into a plantation town by the Sultan of Zanzibar Majid bin Sayyid in the 1860s.

Zanzibar had been an important economic hub in the Indian Ocean and the re-named Dar es Salaam was created to support the archipelago's growing needs. It grew further when Germany established a port there to support their colonisation of the inland, determining the city to be the capital of the colony of German East Africa.

Under British rule after the First World War, German East Africa became Tanganyika, but Dar es Salaam remained the capital due to its convenient coastal location. The British also amplified the segregation within the city, creating European, African, and later Asian quarters.

Nationalist forces blossomed in Dar es Salaam, leading to independence in 1961 under TANU- the Tanganyika African National Union.

Dar es Salaam became a hotspot for nationalist forces from other African countries, including FRELIMO soldiers from Mozambique, SWAPO guerrillas from Namibia, and ANC combatants from South Africa. The soldiers received training and education for the liberation of their countries.

Julius Nyerere, the first elected president of Tanganyika (and later Tanzania) and a reformer of African socialism, opposed cities. Nyerere favoured rural ideals and under his rule, the policy of 'Ujamaa' was developed.

Despite Nyerere's disdain for the city, Dar es Salaam continued to grow, but this growth was uneven and uncontrolled due to a lack of funding.

In 1974, Dar es Salaam lost its capital status to Dodoma in an attempt to decentralise the government and ease the strain on the big city.

Dar es Salaam's past has created a diverse mix of African, Indian, Arab, German, and British architecture and influences, making it the cultural hotspot that it is today.
Getting to Dar es Salaam
As Tanzania's economic capital, Dar es Salaam has good domestic and international transport links. Several airlines offer flights to the Julius Nyerere International Airport (DAR), including Etihad Airways, Emirates, Qatar Airways Delta, KLM, Swiss International Air Lines, and Turkish Airlines.
The bus journey from the airport to the city centre takes around 30 minutes. You can take any bus in the direction of Kisutu. Tickets should cost TSH 200-TSH 400. Alternatively, you can take a taxi or Uber to the city centre, but this will be more expensive. A taxi to the city centre costs around TSh 400.000.
After dark, caution should be taken with taxis. Dar es Salaam covers a huge spread of land and taxis can become much more expensive if you are staying in the outskirts of the city. If you book with us, we will take care of your transport.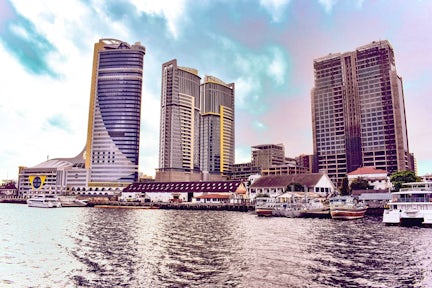 Getting around Dar es Salaam
Things to do in Dar es Salaam
Where to stay in Dar es Salaam?
Whether the city is just a stepping-stone for other adventures or a highlight of your itinerary, you will need to find comfortable accommodation.
You can choose between a range of hotels, Airbnbs, and hostels. Hostels are a great way for young people to meet fellow travellers and they are often reasonably priced.
Some of the best hotels at mid-market prices are The Oyster Bay, The Hyatt Regency (The Kilimanjaro), and The Southern Sun. If you want to stay in a hostel, Happy Feet Backpackers is a great option.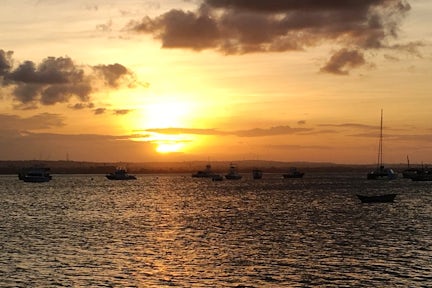 Popular Trips to Tanzania
The tours below showcase just some of what is possible. Use these itineraries as starting points, or to draw inspiration. Then get in touch, and let our expert team help craft the perfect itinerary for you.
Ready to plan your African adventure?
1
Listen
We'll spend some time listening to your aspirations, then discuss the kind of experience that might suit you.
2
Match
Next we'll discuss the options, shortlist the best trips for you and present you our impartial recommendations.
3
Reserve
We'll place a 24 hour hold on your preferred option - without obligation - whilst we talk through the details.
Whatever your budget, group size, length of stay, preferred activity or appetite for adventure, we can help.

+1 315 636-4279