Special Offers
Early Booker: Recieve a 10% discount when you book over 30 days in advance. Available all year round.
Honeymoon Offer: Enjoy game drives and escorted nature walks in Taita Hills Wildlife Sanctuary. This offer includes a bottle of wine on arrival with breakfast in bed for your first morning. Available 1st January 2021 to 23rd December 2021.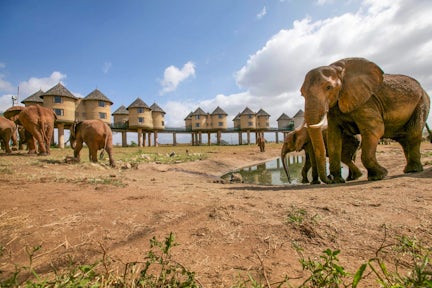 Rooms and Amenities
Salt Lick Safari Lodge is made up of 96 unique and spacious double rooms. Every room is fitted with an en-suite and has breathtaking views of the wild plains from the window.
All bedrooms are equipped with mosquito netting and a ceiling fan to keep cool.
---
There is also a wide range of amenities available to you, including a tea and coffee station and cookie jar, hairdryer, a spa and a swimming pool.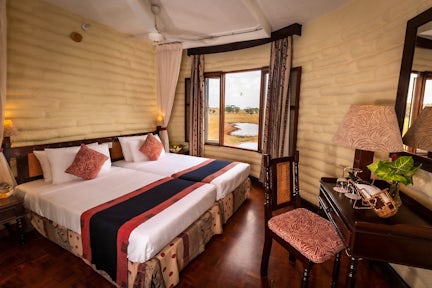 Excursions
Game Viewing: Available early in the morning and late afternoon, drive around Salt Lick Safari Lodge and spot the plethora of wildlife in the sanctuary. The waterhole provides a chance to see animals close up in their natural habitat.
Night Game Drive: This provides you with the chance to see animals not usually seen on a daytime game drive such as hyenas, jackals and bush babies. Highly trained rangers equipped with spotlights take you on this experience, where you might have the incredible luck to see a predator hunting.
Walking Safari: Experience the diverse flora and fauna of this incredible ecosystem. Take a walk through nature with a qualified guide as you stroll through the bush. Encounter smaller wildlife normally unseen during a drive.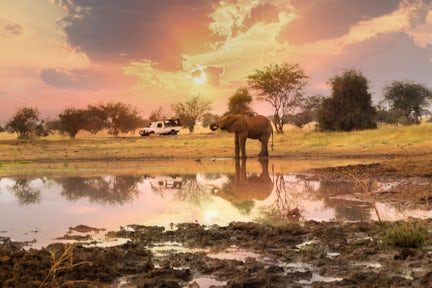 Brilliant says
The lodge's lobby and bar offer great photographic opportunities, and an underground tunnel with ground-level windows provide unbelievably close views of a variety of animals as they drink from the waterhole.

Activities at Salt Lick Safari Lodge
Wildlife Talks: An interesting wildlife presentation hosted in the evenings by a qualified ecologist or ranger can be arranged at your request.
Salt Lick Tunnel: Get up close and personal to large herbivores quenching their thirst. During dry spells, large groups of elephants, buffaloes and zebras (sometimes even trailed by big cats) come for water provided here.
Cultural Music and Dance: A trio of local musicians play traditional music during dinner, this is followed up with Taita dancers, where your participation is greatly encouraged.
Swimming: A free form swimming pool is open all day at the sister property Taita Hills Safari Resort & Spa located nearby.
Day out with a ranger: The Sanctuary houses 15 expert rangers with diverse experiences. They are well informed about flora and fauna identification, bush crafts and indigenous knowledge.
Sundowners: Available on request, there are four bush activity venues within the sanctuary that have breathtaking views of the Taita hills and plains. On a clear day, Mt. Kilimanjaro can even be spotted. (These sites can be used for a bush breakfast, sundowner or bush dinner.)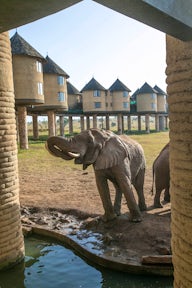 Dining at Salt Lick Safari Lodge
The Bura Restaurant overlooks the waterhole and serves buffet-style breakfast lunch and dinner. Expert chefs can cook you specialist meals at request. The cuisines include Pan-African, Pan-European, and Pan-Asian.
---
The Vuria Bar Lounge has an adjoining terrace that sits above the restaurant provides incredible views of the surrounding grasslands and is the perfect place to relax with your favourite cocktail after a tiring day of exploring whilst watching the wildlife below.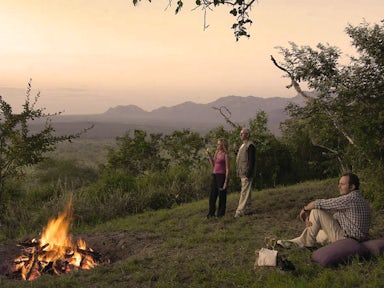 Ayfa Bora Spa
Found at the sister property, Taita Hills Safari Resort, is Afya Bora Spa. Swahili for 'Good Health', the spa offers experiences to soothe, calm and nurture your body and mind.
In an exotic location in complete seclusion, Afya Bora Spa is the perfect environment for relaxation and regeneration. There's something for everyone at the spa - get a massage in one of the treatment rooms, relax in the outdoor Jacuzzi or exercise in the gym.
The highly trained therapists are at hand to offer a wide range of world-class treatments, ranging from massages, facials, body treatments and Hydrobaths, to a full week-long spa regeneration journey.
Ready to plan your African adventure?
1
Listen
We'll spend some time listening to your aspirations, then discuss the kind of experience that might suit you.
2
Match
Next we'll discuss the options, shortlist the best trips for you and present you our impartial recommendations.
3
Reserve
We'll place a 24 hour hold on your preferred option - without obligation - whilst we talk through the details.
Whatever your budget, group size, length of stay, preferred activity or appetite for adventure, we can help.

+1 315 636-4279