A Helping Hand
The Namunyak Conservancy and larger North Kenya region is in the midst of a severe drought due to years of below-average rainfall. This drought has left the Samburu community and wildlife of the conservancy in a vulnerable position. To ease the effects of this, The Sarara Foundation is proud to announce the Milk to Market Program and the positive changes the first three months have brought.
The Sarara Foundation first conducted a census; the results showed that most families had excess goat milk after the needs of the family and livestock had been met. In addition, Reteti Elephant Sanctuary needed a more affordable substitute for milk, as their current import took up most of their budget.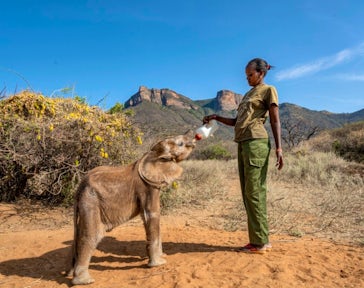 Thus the Milk to Market Program was born - the Samburu women would now sell the excess milk to the sanctuary.
Sarara's objective for the projects is to:
Economically empower the Samburu women
Support the Reteti Elephant Sanctuary with a sustainable milk import
Improve pasture and animal husbandry practices in the area through more sustainable initiatives