What we love about Sarara Lodge
It's built on conservation - The Sarara Foundation helps to preserve the local Samburu Community and their cultural independence and helps to protect the surrounding wildlife and environment.
It's its own experience - Sleep in a treehouse amongst the canopies, or under the stars in a fly camp, staying at Sarara Lodge is more than just a place to sleep - it's an adventure.
Its breathtaking location - nestled within an 850,000-acre conservancy, there's no lack of incredible photo-worthy views from all angles at Sarara Lodge.
About Sarara Camp
Overlooking the incredible Matthew Mountain Range, the tents provide a breathtaking platform to experience the views of the 850,000-acre wildlife conservancy that surrounds it.
A true return to nature, Sarara Camp's waterhole is frequently visited by an array of wildlife, including leopards, giraffes, and elephants. Sarara House - available for families - has become famous for its elephants who are regular visitors to the pool, giving the chance to have an incredibly up close and personal experience like no other.
Able to cater to every dietary need and wish, Sarara Camp's healthy and locally sourced meals showcase regional produce embroidered with Samburu flair. A fully stocked bar means you can take in the rolling vistas with your favourite drink in hand, and enjoy an iconic African tradition of a sundowner.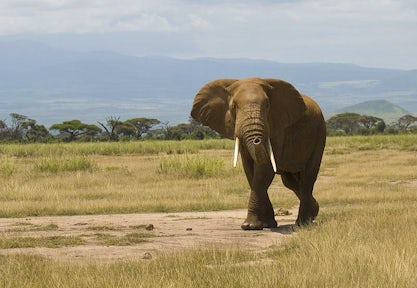 The Sarara Foundation
Their Vision: To enable the Samburu in Northern Kenya to continue a life alongside wildlife, retain and celebrate their unique cultural heritage and live sustainably and comfortably.
The Landscape: Matthews Range is an 850,000-acre wildlife conservancy containing a special combination of desert and mountain rainforest environments.
Namunyak Conservancy was previously devoid of wildlife, but is now home to Kenya's second-largest population of elephant, the largest population of reticulated giraffe, and many other species of animal.

The Challenge: Some factors contributing to the climate crisis and fuelling poverty in under resourced areas include population pressure, rapid urbanization, land degradation and loss of key species and human-wildlife-conflict.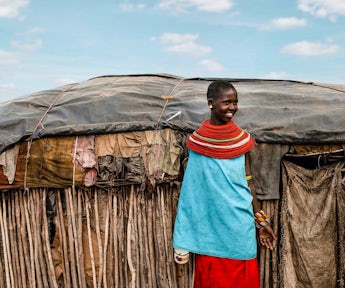 The long term goal of Sarara Foundation is to not only stop this tragedy from happening, but to also create a well-off scenario where the Samburu and wildlife can live side-by-side.
Their Approach: Engage the indigenous Samburu community, preserve cultural independence, and build economic strength through planning and local leadership partnerships.
They strongly believe that change can only be long-term by supporting a generation of Samburu from childhood to adulthood. Helping them develop into 'conscious global citizens' capable of living happy and fulfilling lives is their way of bringing their vision to life.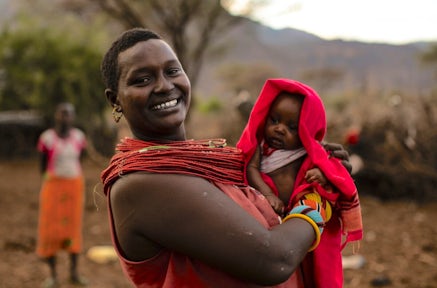 Accommodation
Sarara Camp - 6 beautiful and spacious en-suite tents with a swimming pool and sweeping views
Sarara House - Comprised of 2 en-suite bedrooms, with both an indoor and outdoor shower, private pool, vehicle, and dining area
Sarara Tree - 25 minutes away from the main camp, it's comprised of 8 incredible en-suite tents in the tree canopy, and a shared swimming pool
Reteti House - Opening Sep. 2021, this luxury option offers 180-degree panoramic views for shared or private use. Comprised of 6 rooms, 4 doubles and 2 family rooms (sleeps 5). This option has a private swimming pool.
Fly Camping - A sleeping under the stars experience that can be combined with a stay in the treehouse.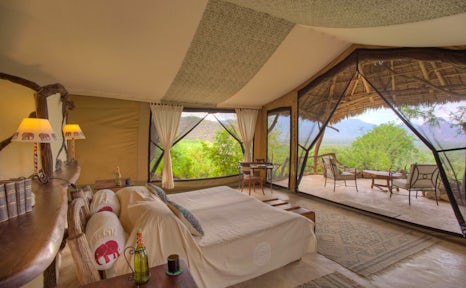 Activities at Sarara Lodge
There is an abundance of activities for you to enjoy during your stay at Sarara Camp. A few of our favourites include:
Day and night drives of the surrounding conservancy
Mountains and game walks with a knowledgeable guide
Horse riding
A cultural visit to Samburu village and beading with the Samburu ladies
River swimming
Camel accompanied walks
Visit the singing wells and honour an age-old tradition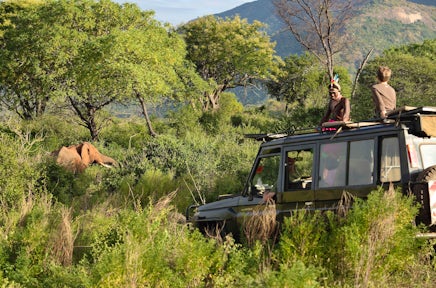 Add Sarara to these trips
The tours below showcase just some of what is possible. Use these itineraries as starting points, or to draw inspiration. Then get in touch, and let our expert team help craft the perfect itinerary for you.
Travel with Brilliant Africa
We custom-build every trip we run to match your dreams, budget, and appetite for luxury and adventure.
So, if you're interested in exploring the wonders of East Africa, get in touch with our expert team and let's get planning.
Ready to plan your African adventure?
1
Listen
We'll spend some time listening to your aspirations, then discuss the kind of experience that might suit you.
2
Match
Next we'll discuss the options, shortlist the best trips for you and present you our impartial recommendations.
3
Reserve
We'll place a 24 hour hold on your preferred option - without obligation - whilst we talk through the details.
Whatever your budget, group size, length of stay, preferred activity or appetite for adventure, we can help.

+1 315 636-4279