A Conversation with Sophie Grant
BA: Hi Sophie! Thank you for chatting with us about your new book, The Bush Kitchen: Notes and Recipes From the Wild. What should we expect from this new project?
SG: The Bush Kitchen: Notes and Recipes From the Wild is a love letter to the work we do here and the life we have built together with our team. Beginning with the history of how we built the lodge, stone by stone, to the setting up of our organic, drip-fed 'shamba' where we grow all our food, to the kitchens, the meat, baking and of course the wild cooking we love to eat outdoors. The idea behind it was to share our story and try to inspire others towards a greener, simpler way of life. It's full of recipes - well over 40 in total - and my emphasis, as this is very much how we cook, is on cooking from scratch, zero waste, thrifty and imaginative seasonal food that is good for the soul and for sharing with friends and family.
BA: When did this passion for the wild and for cooking begin?
SG: My parents inspired me from a very young age by rewilding two incredible pieces of land in Europe in my childhood. My father's passion is birds and trees and so our childhood was underpinned by this interest. We spent all our time planting trees, counting birds, making boxes and by osmosis understanding the connectivity between the health of the land and biodiversity. My mother is French and taught me how to cook, how to grow food and how to gather a family around the table. Meeting my husband, Murray, was the next chapter of my growth as it gave me the opportunity to live completely wild and off-grid and to build a team and business in this exceptional and unique environment that is El Karama Conservancy.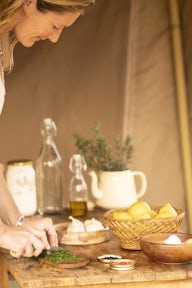 BA: So what was the moment you realised you wanted to write this book?
SG: It has been my companion for some time, a little whisper in my head as I went about my life at the lodge and raised my children. I have always loved writing and hoped one day to have the confidence to be able to write more than just poems and diary entries. I love to correspond in what I suppose is a fairly old fashioned way. I like to write letters and I miss receiving them.
BA: During your writing process, what were your influences and inspirations?
SG: I have long been inspired by women who write and cook. Our neighbour where my parents live is Elizabeth Luard, a gifted food writer and cook. Her style of writing always resonated and her commitment to eating seasonally and with respect for the landscape is always something I loved to connect within her writing. In terms of other writers, there are too many to count, I am a bookworm and lament not having enough time for reading at the moment, as life is so busy. I love reading poetry, so I would say Pablo Neruda, Keats, Barbara Kingsolver and Sylvain Tesson are also authors who inspire me.
BA: Those are some great poetic influences - what would you say is your favourite piece that you've ever written? Doesn't have to be in the new book!
SG: I enjoy writing poems. I have no idea if they are any good, but I love the freedom I can find and also the fun of trying to stick to some kind of form or structure for little ones like Haikus, which the children and I often make up.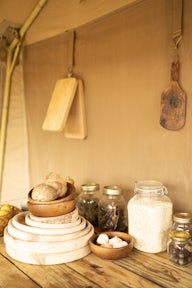 One of my favourite poems is one I wrote with Archer, my 9-year-old daughter. We lay in the long grass by the river one day in the evening sunlight, we took turns creating it one line each. It moved me to see her fall into the fun of creating sounds and words and also to see her sense of pride and satisfaction when we completed it and read it back to one another. Most of our poems are about nature. That is what we live, it is in our blood and bones and I can't really imagine writing about anything else now.
BA: What was the writing process like when it came to the book - did it come quite easily? Tell us about a typical writing day.
SG: The hardest part about writing for me has been finding the time and space to do it. I run two businesses, I have 24 staff in the lodge that require continuous mentorship and support, we homeschool our children and we have animals to look after! So writing often involves me waking up in the dark or waiting until the children are in class, or when lodge guests are on safari and the horses out in the boma. It has become much easier recently though as I give myself more permission to write than before.
I try to allocate at least 2 hours a day now and in the final stages of this book, which have been challenging. I have spent full days locked away in a tent on the river editing and going cross-eyed as my husband takes over the family responsibilities! We take turns - he's a successful sculptor and artist so I have his support in my new creative projects. He knows the flow of creating - once it is moving at a pace, it's very frustrating to have to cut it short. But that in itself has been a lesson in patience for me, learning how to accept that some days will only allow an hour and others six!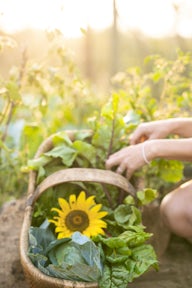 BA: I noticed that you post a lot of your recipes to the El Karama Lodge website - how did you determine what recipes to include in the publication?

SG: This has been one of the hardest bits about this cookbook because the recipes I have created over 12 years run on and on, they evolve and change and I wish I could have them all in. But I have tried to think about my reader and also the clients and their feedback, the things they always want to know…bread, brownies, salad concoctions, those are the things they comment on most, so I tried to be generous with those. We also do so much outdoor cooking and wild cooking so obviously including recipes that include our own produce and our outdoor cooking ways is the essential backbone of the book. I tried to make sure that most of the ingredients were universal, but so many cookbooks don't translate to where we're based, so I've emphasised the use of products I know my peers in Kenya can find.
BA: If you had to live off three recipes in the book for the rest of your life, which would they be?
SG: I can't live without salad, and for our climate, it would be any salad with fennel, apple and celery in - those are my favourites. After that, it would be my morning smoothies or juices. Breakfast is the best meal of the day, in my opinion. And the green goddess broth! It seems to heal all ills, and recently with all the turmoil and stress of Covid, and suffering from the drought in northern Kenya, my whole being has leaned towards cleansing broths that warm and soothe me.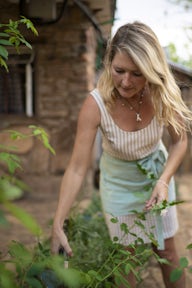 BA: What recipe would you recommend to somebody who has never cooked before?
SG: I've really tried to keep the food fairly simple and also to dispel the notion that cooking from scratch is somehow hard or requires superhuman chef powers. It actually comes down to time, willingness and patience.
I would probably say something like the Chicken Hot Pot would be a winner because it's a one-pot wonder- it's food for sharing and can also be frozen to last…it's a really satisfying easy meal to cook and whether you're a student or a parent, it seems to hit the mark for comfort food!
BA: Thank you so much for taking the time to answer these questions, Sophie. And a big congratulations on the book, we can't wait to get our hands on it!
---
Sophie's cookbook, The Bush Kitchen: Notes and Recipes from the Wild, will be published in December 2021, and available on Amazon from January 2022.
The book is limited edition and will be available at selected sites in Kenya.
All proceeds from this book will be reinvested into ETW Ltd to ensure that permanent staff remain secure in their employment throughout the pandemic.