Protecting the Wild
Protecting over 1.6 million acres of wilderness in the Amboseli-Tsavo-Kilimanjaro ecosystem of East Africa, Big Life's conservation programs fit into three distinct categories: wildlife protection, habitat protection, and community support. They've learned that each is necessary for the success of the others, and looking at their quarterly numbers, the impact speaks for itself.
---
Anti-poaching was the first program focus when Big Life was established and continues to be the primary mission focus for the organization: to stop illegal wildlife crimes and arrest poachers.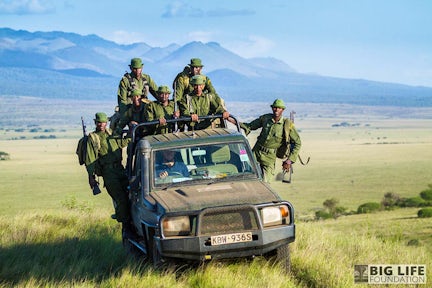 In the 3rd Quarter of 2021, these brave rangers patrolled over 182,366 km within their area of operation.

On their patrol, Big Life rangers arrested 101 suspects for crimes involving trophy possession, bushmeat poaching, wildlife trafficking, and habitat destruction. In addition, they successfully confiscated 256 kg of ivory, 434+ kg of bushmeat, 2 hippo teeth, 6 leopard skins, 1 pangolin, 1 serval skin, 9 warthog teeth, and 3,263+ kg of sandalwood. Big Life rangers also recovered 4 poisoned arrows, 39 snares, and 9 bird traps, saving countless animals from succumbing to would-be poachers.