Population: Growing!
Rhinos are dubbed 'living fossils' - they're one of the oldest mammal groups in the world; they consume a lot of plantation, balancing the landscape and helping the ecosystem. Although the conservation efforts in Africa have slowed and reversed the declining population numbers (there were under 100 African white rhinos in 1895 - there are over 20,000 now), rhinos are still a poaching target due to their horns, which are sold as medicine ingredients and decorations.
In a recent newsletter from our friends at Elewana, we've learnt that Lewa Conservancy is still the pioneer of these vital rhino conservation efforts. 2021 has been a successive year of incredible ground-breaking births that are critical for the rhino population. So far, 24 calves have been born, bringing the total number of rhinos in the conservancy to 238. This is a promising increase from the 17 calves that were born in 2017. After merging and partnering with Borana Conservancy, 14% of Africa's rhino population now live here.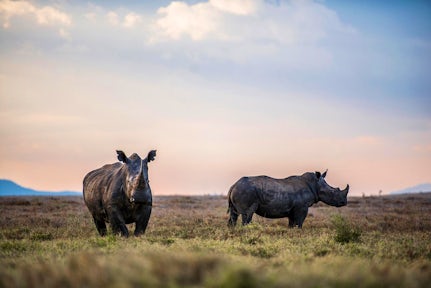 Over 170 black rhinos live in Lewa Wildlife Conservancy
This comes from the efforts of the Rhino Conservation Programme. However, as success increases, so does the need for security, research, and many other vital resources. Although there have been 0 poaching incidents in Lewa since 2020, the threats are ever-present, and the team remains committed to ensuring the safety of rhinos and other endangered species for generations to come.
(Due to this, Lewa has increased fees for the conservancy starting in 2022. For overnight non-Kenya residents it's been adjusted to US$134 including VAT and for Day Non-Kenya residents to US$210 including VAT.)

Morning game drive, Lewa Wilderness