A New Adventure for Ami
You may recognise Ami Vitale's work from the iconic image of Sudan, the last male northern white rhino on earth with Joseph Wachira, a caretaker at Ol Pejeta Conservancy in Kenya. The image won 'Photo of the Decade Award' and was featured on the cover of National Geographic in October 2019. Ami has followed the story of the northern white rhinos since their relocation to Ol Pejeta Conservancy in 2009. The connection she felt to their journey shifted her focus towards wildlife and environmental stories.
This role, therefore, is an extension of her passion and contribution to conservation. "I'm really looking forward to raising awareness of the extraordinary work that the Ol Pejeta team does to conserve wildlife and the overall biodiversity while improving the livelihoods of rural communities," said Ami.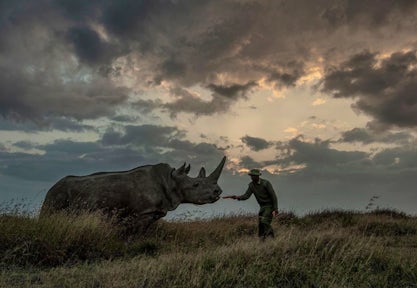 Photo by Ami Vitale
Ami said on Instagram, 'It has been a privilege to have spent more than a decade documenting [Ol Pejeta's] dedication to saving the last living northern white rhinos and preserving and caring for so many other precious species like black rhinos, grevy's zebras, leopards, wild dogs, elephants, lions, cheetahs, hyenas, giraffe and many more. Ol Pejeta Conservancy is home to all of the Big Five and so much more life that needs our attention and love too. It is the largest black rhino sanctuary in East Africa, and soon they will welcome their 150th black rhino! The real ambassadors are the people here whose commitment and courage is contagious. My role is only to amplify their work in every way possible. I am filled with tremendous humility and know that they are the REAL ambassadors.'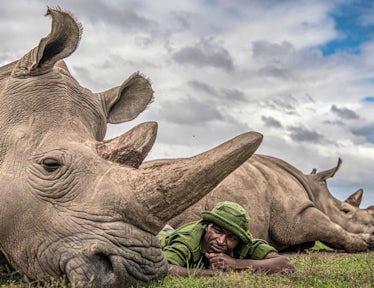 Photo by Ami Vitale
The Story Behind the Photo of the Decade
National Geographic readers voted a heartbreaking photograph by Ami Vitale as the top photograph of the decade. Vitale's image shows the moment just before Sudan, the last male northern white rhinoceros on earth, died. In the photo, Sudan is comforted by Joseph Wachira, a caretaker at Ol Pejeta Conservancy, in Kenya.
"Watching a creature die—one who is the last of its kind—is something I hope never to experience again," Vitale wrote of the image on Instagram. "It felt like watching our own demise. My hope is that this heartbreaking moment will be our wake up call. These giants are part of a complex world created over millions of years, and their survival is intertwined with our own. Without rhinos and elephants and other wildlife, we suffer a loss of imagination, a loss of wonder, a loss of beautiful possibilities. When we see ourselves as part of nature, we understand that saving nature is really about saving ourselves. Sudan taught me that."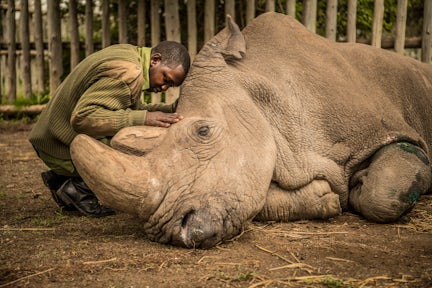 Photo of the Decade
Popular Trips to Kenya
The tours below showcase just some of what is possible. Use these itineraries as starting points, or to draw inspiration. Then get in touch, and let our expert team help craft the perfect itinerary for you.