Top 3 in the World
The Wanderlust Travel Awards, launched by Wanderlust Magazine back in 2006, have a special category to recognise the unsung heroes of the travel world: guides and tour leaders. Every year roughly 3000 guides are nominated by readers, who are then assessed and shortlisted. The final decision is down to Founding Editor Lyn Hughes and her esteemed panel of judges.
Craig Wickham from Kangaroo Island, South Australia took the Gold Award, with Joseph Tano from Papua New Guinea Tourism in second place with Silver. Jonny Motsieloa took the Bronze Award – flying the flag proudly for Africa - as one of the top 3 specialist guides in the world.
"I was very ecstatic, and I am glad that my work has been recognised", said the 45-year old guide and father of three. Jonny has loved nature all his life - and grew up in the Madikwe area as the son of a local farm labourer and stay-at-home mother.
Jonny, now a Senior Field Guide at Mosetlha Bush Camp & Eco Lodge, started working in the Reserve as a security guard in 1997 until he was given the opportunity to attend the Mafisa Training Programme to qualify as a guide – his dream job!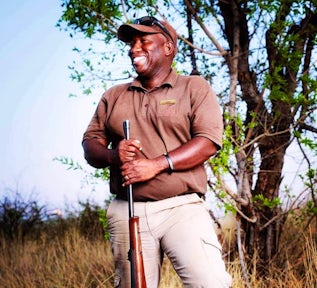 Pictured: Jonny Motsieola
"He came to us on Friday 13th (lucky for some) September 2002. Jonny is super knowledgeable, has eagle eyes (I swear he could spot game through a solid brick wall) and really takes you into his world on his drives and walks," Caroline Lucas, owner of Mosetlha, stated.
Jonny hopes that his success will encourage his own son as well as other youngsters to follow in his footsteps - but is adamant they need to do it for the love of nature, not for money.
---
Mosetlha is nestled right at the heart of the Big 5 malaria-free Madikwe Game Reserve and is the park's only genuine eco-lodge with an incredibly light footprint. The camp is unfenced, rustic and intimate with just 10 cabins – and remains proudly off-grid to ensure an authentic bush experience.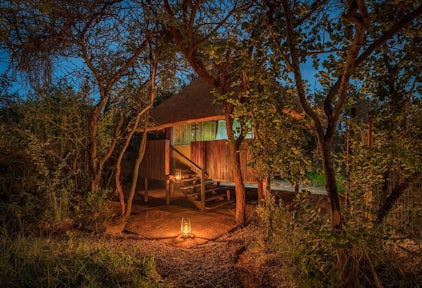 Mosetlha Bush Camp
Popular Trips
The tours below showcase just some of what is possible. Use these itineraries as starting points, or to draw inspiration. Then get in touch, and let our expert team help craft the perfect itinerary for you.