Paving the Sustainable Path
Our friends at Emboo River have shared with us a great project in partnership with Kenya's Minister of Tourism (KMT). Their aim: to make the Maasai Mara carbon neutral in the coming years. But why is this important? The answer is simple: carbon neutrality greatly reduces the environmental pollution emitted and helps biodiversity thrive, lessening the severe impact of climate change. The project will involve multiple aspects, including grey and black water management, cooking on biogas instead of LPG and the use of electric safari vehicles.
In fact, Emboo River is a pioneer in the latter - proudly owning the first fleet of Electric Safari Vehicles in East Africa. When used, their carbon dioxide emission is zero. This is in comparison to many other lodges that use ICE safari vehicles, emitting more than 350g of carbon dioxide per/km. In partnership with KMT, the camp will be helping their peers take these sustainable steps towards a greener Maasai Mara.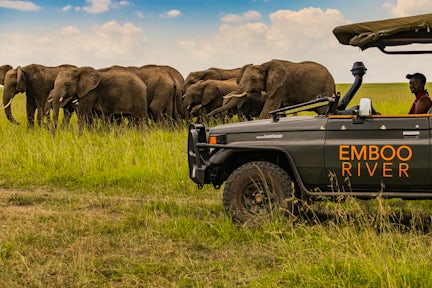 On a sustainable safari with Emboo River
What else is Emboo River doing in its pledge to the environment?
Farm to Fork: The camp offers 100% flexitarian and vegan lunches. They say that studies show moving to a flexitarian diet could reduce greenhouse gas emissions by over 50%!
Organic Everything: Home to 2 acres of local garden, Emboo plants and grows over 40 varieties of organic veg, fruit, and herbs. In addition, they have a whopping 17 traditional beehives.
Rooting for the Future: Emboo River impressively plants 50 trees a month, with hundreds in a nursery waiting to be moved to their new soily home. One tree alone can absorb about 22kg of carbon dioxide a year, so one year of trees being planted equates to 13,200kg of CO2 a year.
No Single-Use Plastic: It's no secret that plastics are polluting our ecosystems, including streams, rivers, oceans, savannas and forests. So, to minimise waste, everything is reusable. Instead of tin foil, they use beeswax cloth. Instead of plastic straws, they use bamboo straws - a gift that they give to each guest.

For more information on Emboo Rivers sustainable efforts, find it on their site here.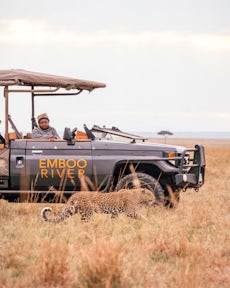 Spotted - a leopard in the plains
An Ancient Promise
Emboo River told us of a Massai saying - "mataramat enkop pee eramat iyook", translating to "if you take care of nature, nature will take care of you."

There is a legend that says the Maasai Community made an agreement with Enkai (meaning God). The community would be given cattle, in return, they'd promise to be the guardians of nature - this was a promise that must never be broken.
The founders of Emboo River Camp, William Partois Ole Santian, Valery Super and Loïc Amadò, uphold this ancient promise by running the first full eco-lodge in the region and combining tradition and innovation. Emboo River promises to be a guardian of nature, to be a pioneer for change and to continuously promote sustainable practices.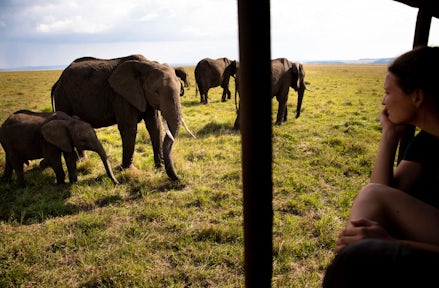 Elephants on safari with Emboo River
Emboo River's Road to Sustainability