Special Offers
Travel within 6 weeks of booking and get 25% off.
Stay 5 nights at Olakira, or a combination of select properties (enquire for details), in July, August, or September 2021 and get 15% off.
Stay 8 nights at Olakira, or a combination of select properties (enquire for details), in July, August, or September 2021 and get 25% off.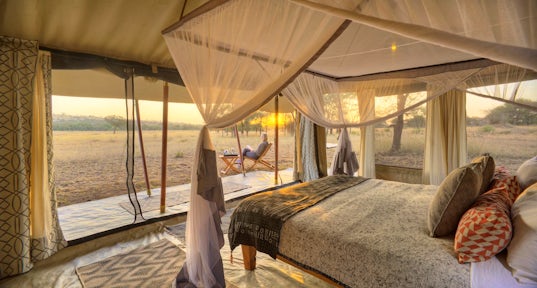 What we love about Ubuntu Migration Camp
Its got incredible sweeping views - Sit in the comfort of your private tent with a gin and tonic and take in the sprawling views of the Serengeti before you, watching the zebras as they graze and pass by.

Dine in style - All food and baked goods are freshly prepared at camp, with the option of having a picnic taken out to the bush or to the perfect spot under the stars.

A Birdseye View - The camp offers the incredible experience of seeing Serengeti from an exclusive vantage point - the sky. Float above in a hot air balloon and watch the wildebeest beneath you.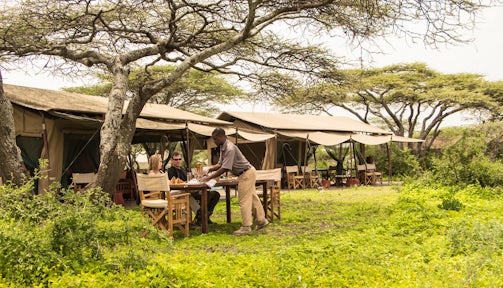 Brilliant says
'Ubuntu' translates to 'humanity', and it's a word that suits this small, intimate camp. The close-knit team offers warm hospitality, a relaxed atmosphere, and great food.

Accommodation
Ubuntu Migration Camp is comprised of eight canvas tents, including one family tent. Let in the light of the day or the moons glow at night with the mesh side panels, and choose between king-size or twin beds for a good nights sleep.
---
All tents have en-suite bathrooms with hot-water bucket showers and flushing toilets. Spend the early evening with your drink of choice on your private porch.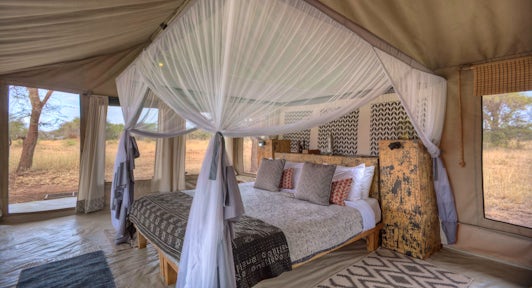 Activities at Ubuntu Migration Camp
There is an abundance of activities to enjoy at Ubuntu Migration Camp, and the friendly staff will be more than happy to help organise these for you.
Some of our favourites include:
Game drives led by local expert guides

Hot air balloon safaris for a brand new point of view of the Serengeti
Local community cultural trips
Various safari itineraries with a bounty of photo opportunities for photographers of all skill levels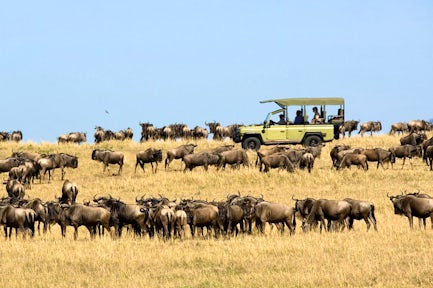 When to Visit
Ubuntu Migration Camp follows the wildebeest herds through the Serengeti, so guests can see the Great Migration at any time.
---
The camp is closed from mid-March through mid-June, and the first half of November.
---
July and August are the busiest months for tourism, and we recommend travelling in January, February, September and October, as these months have fewer crowds and great wildlife viewing.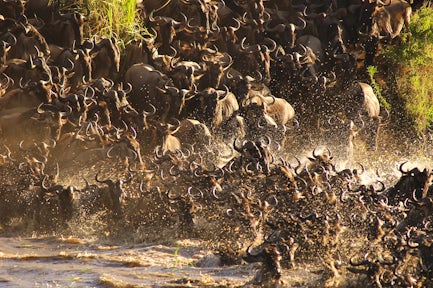 Ready to plan your African adventure?
1
Listen
We'll spend some time listening to your aspirations, then discuss the kind of experience that might suit you.
2
Match
Next we'll discuss the options, shortlist the best trips for you and present you our impartial recommendations.
3
Reserve
We'll place a 24 hour hold on your preferred option - without obligation - whilst we talk through the details.
Whatever your budget, group size, length of stay, preferred activity or appetite for adventure, we can help.

+1 315 636-4279