Special Offers
Complimentary sleep-out & private vehicle: when you combine Segera & Angama Mara for 3 nights each, receive a complimentary Segera sleep-out in the famous Nay Palad. Save U$1,485 (U$1,600 in 2022) with a complimentary private vehicle at Angama Mara. Save U$800 per day (Save U$2,400 for 3 nights). Valid 2021 & 2022 within dates 10 Jan –30th June and 1st Oct – 14th Dec.
What we love about Segera Lodge
It's environmentally friendly - Running on 100% solar power, the lodge has planted 1 million Acacia trees on the massive site, captures the rainwater from its gardens to reuse, and removed its fences to re-open the elephant migratory corridors.
It's got culture at its heart - Not just heavily involved in local community projects, the lodge also offers tours of its African art collection, has an artist in residence programme, and has its own outdoor bush cinema.
Perfect game-viewing location - The residents that roam on the outskirts of the lodge are comprised of over 30 species of mammal and 200 species of bird. Venture out with one of their guides and try to spot one of the three prides of lion in the area.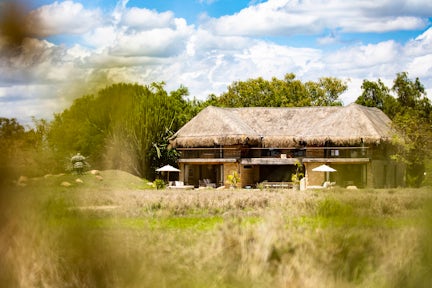 Segera's Ethos
Segera is inspired by a balance of 4 core concepts that we call the 4Cs: Conservation, Community, Culture and Commerce. Your stay with us directly helps support our 4C projects from solar farms and beading co-Segera is based on the balancing four concepts of conservation, community, culture, and commerce.
The '4C Project', supported by the stay of guests, helps them fund solar farms, operatives at schools, and the female anti-poaching rangers academy. Its mission is to create a sustainable relationship between the landscape, community and its wildlife in an eco-sphere. Every stay here contributes to making this vision a reality in the long run, and when staying here, you are given the opportunity to engage with his amazing cause further.
Accommodation
There are multiple luxury options for accommodation at Segera Lodge, and children of all ages are welcome.
5 Elevated Garden Villas - sleeps 2 people in each villa, 1 Family Garden Villa will sleep 4 people
Villa Segera - sleeps 4 people, has a spacious en-suite bathroom, private garden, and relaxing swimming pool
Segera House - sleeps 6 people, has 3 spacious en-suite bathrooms, private garden, and relaxing swimming pool
Segera Greenhouse - recently refurbished, it sleeps 4 people, has 2 spacious en-suite bathrooms, and a private garden.
There is also a gym, wellness centre, and spa to relax in after a day of exploring the area on safari.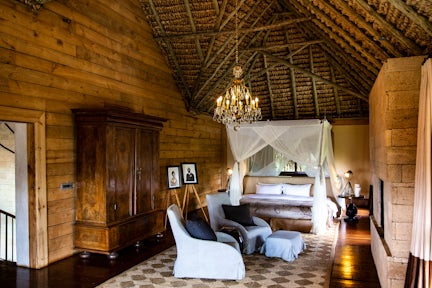 Activities at Segera Lodge
There is an abundance of artisanal activities for you to do at Segera Lodge, here are just a few of our favourites:
Day and night game drives and guided game walks of the surrounding area
Gather wild honey in bee-suits with traditional beekeepers
Sleep out in the Nay Palad Bird Nest
Helicopter safaris to Mount Kenya, Lake Turkana, and the Reitei Elephant Sanctuary
Waterfall picnics with a camel walk and fishing
---
Brilliant says
Pleasant all year round, Segera has an equatorial climate with very small changes between seasons. At an altitude of 1,700-1,800m above sea level, it's warm during the day and cools off at night - perfect for safaris.
A Small Footprint
Segera keeps the environment close to its heart, and ensure that every aspect of the retreat has as small a footprint as possible.

Every room is powered by solar power, and greywater is captured and re-used on the grouds. Waste is recycled or composted in their organic gardens, and they have a water bottling system that makes plastic bottles redundant.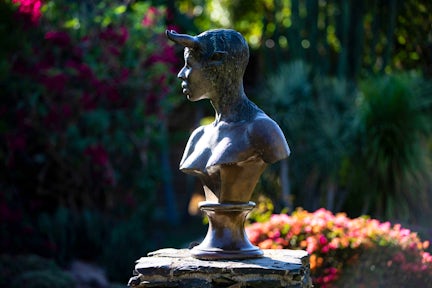 Ready to plan your African adventure?
1
Listen
We'll spend some time listening to your aspirations, then discuss the kind of experience that might suit you.
2
Match
Next we'll discuss the options, shortlist the best trips for you and present you our impartial recommendations.
3
Reserve
We'll place a 24 hour hold on your preferred option - without obligation - whilst we talk through the details.
Whatever your budget, group size, length of stay, preferred activity or appetite for adventure, we can help.

+1 315 636-4279