A Sight Like No Other
To begin with, Lake Natron wasn't on the itinerary. I had heard of it, of course, but I had assumed it was off-limits despite it sparking my interest. Research prior had informed me that the lake was deadly, at the foot of a volcano, and inhospitable to people.
As my safari experience at the Serengeti National Park was drawing to a close, I expressed how nice it would have been to see the lake before returning home. However, my guide informed me that all was not lost. If I was willing to endure the long drive, I could spend the night at Klein's Gate before the eight-hour odyssey via road to Engaresero. From there, I could make the short journey to visit Lake Natron. It was now or never to decide. I asked if it were possible to organise on such short notice, but with a call here and there it was done. Tomorrow I would set off to visit Lake Natron.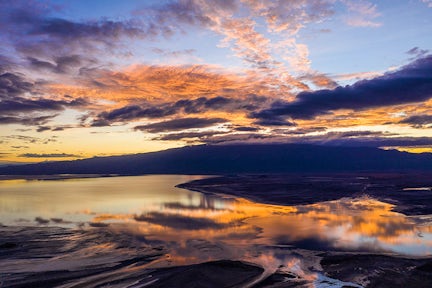 Emerson once wrote the famous aphorism, 'it's not the destination, it's the journey.' In the car to Lake Natron, this rang true. Before I even arrived, I knew I had made the right choice in coming out here, and the day already felt like a memory I would never forget. Strapped in, with my left hand in a white-knuckle grip on the handle above my head, we traversed at good speed over what was barely a dirt road. Savage vegetation reached out with sharp fingers, scraping across the windows as we passed. Occasionally the car would dip up and down sharply as we passed over long-dried rivers, and I was thankful to my breakfast for not making a return. Here and there we pointed to zebras or wildebeest over in the distance, barely bigger than a coin on the horizon.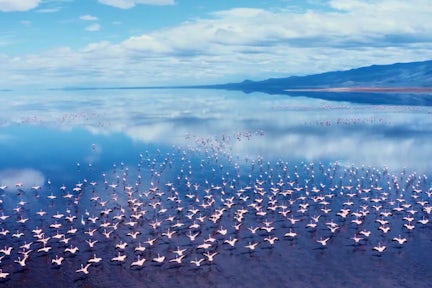 Jutting sharply out of the horizon I spotted Ol Doinyo Lengai. With this now in view, I knew we were close. The volcano's name means 'Mountain of God', and it felt like an apt name. It was stark and imposing against the blue of the East African sky, and I kept my eye fixed on it as we drove. My guide in the driver's seat saw my fixation. He told me that the volcano has a rare sodium and potassium makeup in its minerals. Because of this, it erupts at lower temperatures compared to other volcanoes - about 500-600°C - and the molten lava appears almost black in the sunlight instead of a glowing and vivid orange.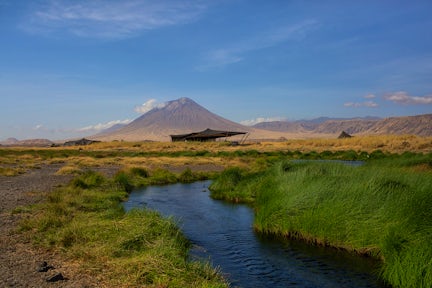 By the time I got to Lake Natron, the sun had begun its descent in the sky. I was thankful for this - the thick air slowly cooled around me, the sand under my shoe still noticeably hot through the sole, but not unbearable. The volcano loomed overhead, more imposing than ever now that I stood at its base.
The first thing I noticed was that the landscape is inherently dry, any notes of green were subdued, overpowered by the dark ochres and greys of the rocks and sand. It was less lush than other sites I've visited whilst in Tanzania, but one of the most startling.

The shoreline was punctuated with strange sculptures that upon further inspection revealed themselves to be calcified corpses of small animals - I noticed mainly birds and a couple of figures that seemed to be bat-like. I pointed them out to my guide who told me it's hard to say for sure how the animals ended up in the water, but that the stoney mummification is caused by the sodium carbonate minerals of the volcanic lake. The statues were eerie and unsettling, but it didn't repel me from taking in the rest of the sights the lake had to offer.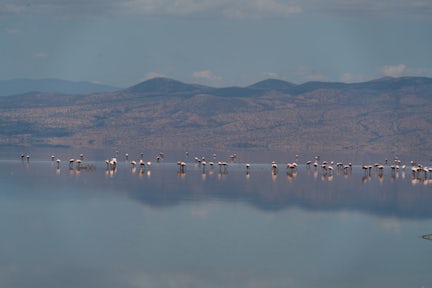 Looking out over the water, it was more than I ever could have imagined. The lake was especially shallow at this point in the dry season - the water's vermillion hues spread intermittently in dense and faded hues like a bloody patchwork. Lake Natron's colours are down to the microorganisms that thrive in its salty waters and give it a high pH level. It would have been impossible to wade out into it without harm, and so it remains untainted by human interference.
Although most creatures can't survive here, Lake Natron was by no means barren. Evolution had helped make it a valuable breeding ground mainly for the lesser flamingo, but also for other species of birds and tilapia fish, too.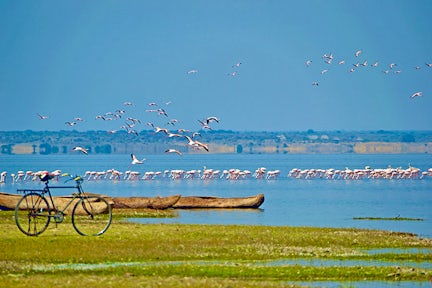 It's the flamingos that people primarily come here to see. They arrive en masse, perching in the scorching shallows on one leg, almost motionless, splatters of a delicate pink against an otherwise desolate terrain. They feed on the microorganisms that give them their pink shade and breed here for months at a time. The caustic environment of Lake Natron means that it acts as a barrier, protecting them from predators trying to reach their nests. I guessed that there were a few hundred or so flamingos in the lake at the moment, but in their peak season, there would be up to 2.5 million of them. It's impossible to imagine how the lake could accommodate them all. In fact, the flamingo's dependence on the lake has garnered them the title of 'near threatened'.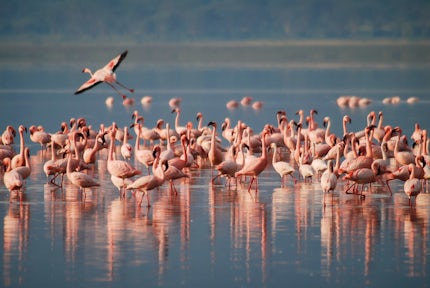 I didn't feel the need to take many photographs of this site, because I knew it's something I'll always remember vividly. I looked to my left and my right and realised that aside from my guide waiting for me back at the car, I was alone here, and I had Lake Natron all to myself. The sun had almost gone down completely, and the lake looked like a spill of red wine below the volcano. Around me, the air was completely still, at this moment I felt as though I was trapped within a surreal painting.
After some time walking along the shoreline and back again, ensuring I saw the lake from every angle possible, I was satisfied enough to return to the lodge. I turned from the water's edge and headed back towards the car. Once strapped in, I took one last long look at Lake Natron and the volcano that stands guard over it, thankful that I had taken the time to see one of the hidden gems in Tanzania.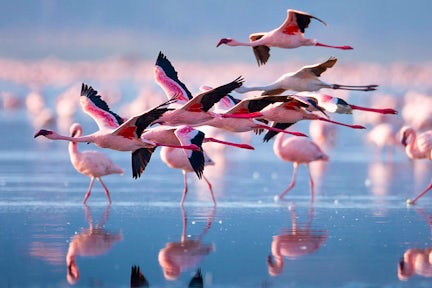 Ready to plan your African adventure?
1
Listen
We'll spend some time listening to your aspirations, then discuss the kind of experience that might suit you.
2
Match
Next we'll discuss the options, shortlist the best trips for you and present you our impartial recommendations.
3
Reserve
We'll place a 24 hour hold on your preferred option - without obligation - whilst we talk through the details.
Whatever your budget, group size, length of stay, preferred activity or appetite for adventure, we can help.

+1 315 636-4279