What we love about Kigelia Ruaha Camp
It's an immersive experience: Sitting in the heart of big game territory, there are no vast vistas here. instead, the camp sits amongst the elephants at the river bed and giraffes around the tents. Running for over two decades now, this location was picked because it allows its visitors to truly be in the thick of it.
Quiet and secluded: Ruaha National Park has acres and acres of ancient baobab trees amongst swathes of woodland. Relatively undiscovered, it receives fewer visitors on safari than its more famous counterparts, so you have the area almost all to yourself.
Wildlife Hotspot: Ruaha has one of the highest populations of lions in Africa, it also is home to a large concentration of elephants and buffalo amongst many many other game and predators, all on the camp's doorstep. Some of the guides at Kigelia Ruaha Camp have even witnessed a pride of lions trying to take down giraffes and elephants.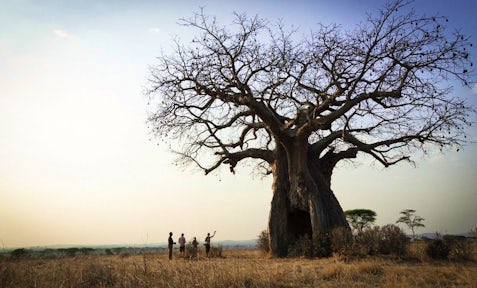 Rooms and Amenities
Kigelia Ruaha prides itself on simplicity - the living area is a thatched structure with swing seats and a campfire for sundowners.
The camp is comprised of 6 airy tents with one family tent available.
The family tent is twin-roomed with an en-suite and is suitable for children aged eight and over.
They're fitted with safari-style bucket showers and flush toilets.

Kigelia Ruaha Camp offers both indoor and outdoor dining with sundowners by a fire under the shade of kigelia trees. Bush breakfasts are provided courtesy of the lodge.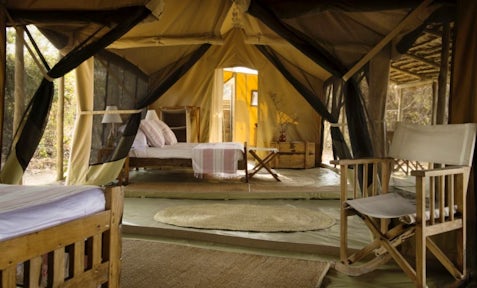 Activities at Kigelia Ruaha Camp
There are many safari opportunities to discover at the camp.
---
Here are a couple of our favourites:

Game Drives: Accompanied by an expert guide from Nomad Tanzania, embark on a safari in an open vehicle in Ruaha National Park in search of big game.
Bush Walks: Walk amongst the immense baobab trees with an expert guide and take in the wildlife in more detail than you can get from inside a vehicle. Look out for small reptiles, bats, or owls that would previously go unseen.
Brilliant says
Big days out on safari can be exhausting, and this camp is a haven of rest and relaxation. Miles from anywhere, it's quiet and secluded, so just relax on-site for a while and take in the sights and sounds of the bush.

When to Visit
The best time of year for walking safaris is from June to September, which has warm days and cool nights with good elephants and buffalo. sightings.
---
Heavy concentrations of game can be spotted around the Ruaha and Mwagusi rivers from October to November when the weather is hot and dry.
---
Birdlife and calving season with humid weather and showers of rain run from December to March.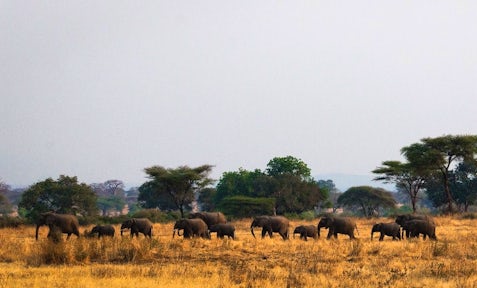 Ready to plan your African adventure?
1
Listen
We'll spend some time listening to your aspirations, then discuss the kind of experience that might suit you.
2
Match
Next we'll discuss the options, shortlist the best trips for you and present you our impartial recommendations.
3
Reserve
We'll place a 24 hour hold on your preferred option - without obligation - whilst we talk through the details.
Whatever your budget, group size, length of stay, preferred activity or appetite for adventure, we can help.

+1 315 636-4279