Celebrating World Gorilla Day
Coming face to face with mountain gorillas in their natural habitat is one of the most powerful and humbling wildlife encounters possible. You can always spot trekkers who are returning from having been with the gorillas: even the strong and silent types are grinning and chattering like birds.
The protection and slow population growth of the Gorillas can be credited in no small part to the travellers who come to visit them. Without this crucial finance, the incentives to protect the gorillas' environment would be drastically reduced, and we might not have any gorillas left in their natural habitats today.
To celebrate World Gorilla Day (24th September), the Africa Travel Collective spoke to Uganda's Gorilla Doctor, Gladys Kalema-Zikusoka to find out more about these endangered species and how we can help protect them.

How did you become a Gorilla Doctor?
I became a gorilla doctor after I conducted research on parasites and bacteria in the mountain gorillas at Bwindi Impenetrable National Park as part of my studies as a veterinary student at the Royal Veterinary College, University of London.
I had always wanted to be a vet and when I started a wildlife club in my high school, Kibuli Secondary School in Uganda, I decided that I want to become a vet who also works with wildlife. In the fourth year of vet school, I got the opportunity to study the mountain gorillas and was hosted by Dr. Liz Macfie, heading the International Gorilla Conservation Program (IGCP) in Uganda that was working with Uganda National Parks, which later became Uganda Wildlife Authority (UWA) to develop mountain gorilla ecotourism.
The four weeks I spent at Bwindi in 1994 - when tourism had just begun - was a life-changing experience that made me want to become a full-time wildlife veterinarian. One year later I got my dream job as the first veterinarian for Uganda Wildlife Authority because they needed a vet to look after the gorillas to minimize the risk of cross species disease transmission from humans.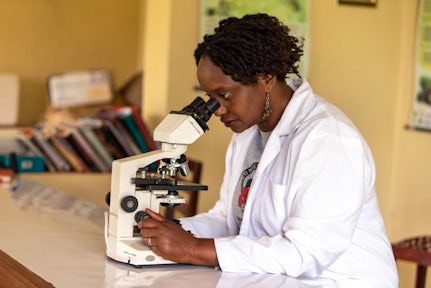 How does tourism directly help the survival of the mountain gorillas, and what have been the effects of the pandemic?
Tourism directly supports the gorillas by providing a sustainable source of income for gorilla conservation. The positives of tourism extend beyond the protection of the gorillas, but provides benefits to local communities through employment, and by providing a market for nearby local businesses.
The lack of tourism since the pandemic has posed a threat to the health and conservation of the gorillas. The Uganda Wildlife Authority and NGO's have been working hard to mitigate the impact by providing sources of food and supporting local communities, in a bid to stem the threat of poaching in the forests.
We have also focused on ensuring the health and wellbeing of communities living close to gorillas in our 'One Health' approach that addresses the health of humans, animals - including farm animals - and their ecosystems to conserve the great apes.

Before the pandemic, mountain gorilla numbers were above 1000 for the first time. What has contributed to this growth in numbers?
A number of factors have contributed to the increase in mountain gorilla numbers, from 650 when I first started working with gorillas in the 1990s, to 1,063 in the latest census.
This includes veterinary care for individual gorillas, improving community health to reduce disease transmission between people and gorillas and other community conservation efforts such as ecotourism and support to local coffee farmers. All of this improves community livelihoods and reduces their dependence on the gorilla habitat to meet basic needs.
The improvement of law enforcement and research and monitoring has also helped - we've seen a big improvement in the overall management of the conservation efforts of the gorillas and the forests.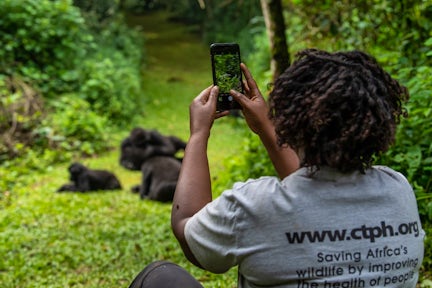 What has been the biggest change in gorilla tourism since it started in 1993?
Obviously, the pandemic has been a huge change, disrupting the previously sustainable tourism income which we so heavily rely on to protect them.
We hope that now that international tourists are starting to visit Uganda again, we can build this back up. I have seen a lot of changes since I first started working with gorillas in 1994. At that time, there were only two gorilla groups, Mubare and Katendegyere. Unfortunately, Katendegyere gorilla group eventually disintegrated because of too many males and also suffered from the first recorded scabies disease outbreak in the mountain gorillas, traced to people living around the park who have limited access to health services. This eventually led to more gorilla groups being habituated, and gradually over 25 years, we began to see the economic benefits from gorilla tourism that has now transformed the local economy of Bwindi.
Since the number of habituated gorilla groups has increased to 22, the number of lodges and tourists to Bwindi has increased and so have the benefits to the local community and sustainable income for UWA and Uganda as a whole. This has in turn resulted in greater support for gorillas, the park and wildlife conservation in general.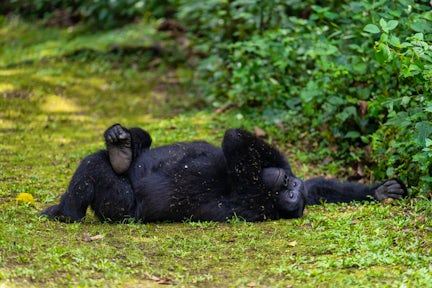 We know that every time we trek for gorillas we are helping through awareness and through our permit costs, but how else can we support the gorilla's survival both now and in the future?
Sticking to the rules for trekking is so important, now more than ever, to protect gorillas from human diseases. Ensuring adherence to hygiene protocols and keeping the 10m distance. If visitors are unwell, they must not enter the forest.
We recently conducted a survey about disease mitigation measures in gorilla tourism, you can see the results of that survey here.
In addition to the gorilla trekking, people can further support gorilla tourism through adding an extra day or two to their stay to learn about the local conservation efforts on the ground. You can learn about how gorillas are looked after through health services and how the local communities' quality of life is being improved through engagement in conservation and livelihood activities that enable them to coexist with the gorillas and other wildlife at Bwindi.
For more information on Dr Gladys work please visit www.ctph.org